Mombasa & Masai Mara Flight Packages - 3 Days Masai Mara & 4 Days Momba Flying Package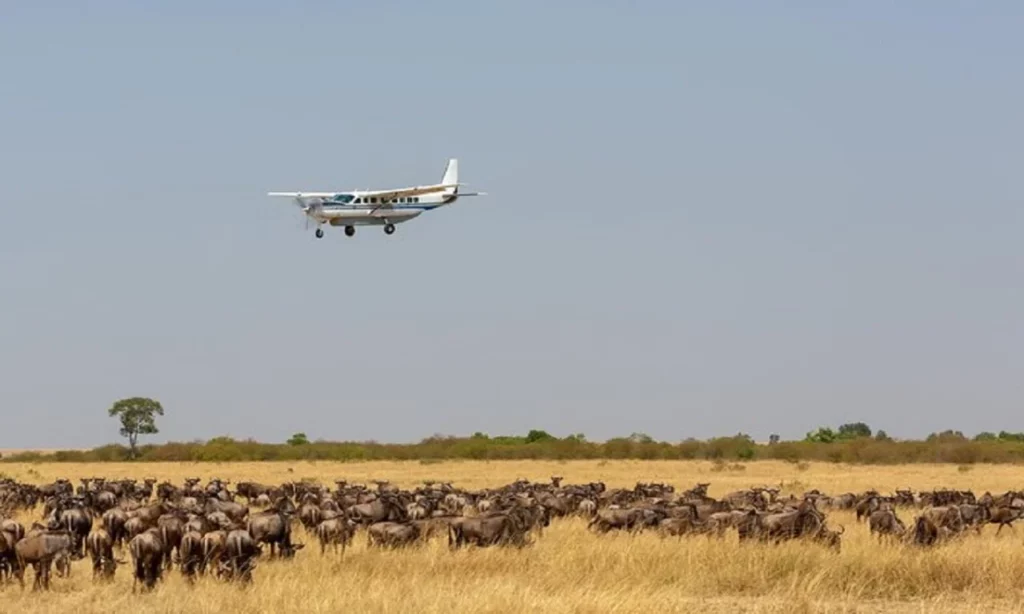 Human beings have an almost insatiable appetite for the good things in life. We have said almost because the two destinations in the Masai Mara flight packages will most definitely satisfy your thirst for adventure. We are talking about the Masai Mara National Reserve and Diani Beach. 
Masai Mara, for a start, showcases nature and African wildlife during a 3 Days Masai Mara flying package in ways that would easily turn other parks green with envy. With it comes unimaginably beautiful vistas, a wide variety of wildlife, and a jaw-loosening scenery. 
It houses more than 450 bird species and 96 mammal species. These include native populations of antelopes, gazelles, giraffes, and more. Masai Mara is also the arena for the great land migration on earth, the wildebeest migration. 
On the other hand, Diani presents herself with so much majesty it would be impossible not to fall in love with her. Her shores have an insane level of magnetism, and her ambiance and scenery are an out-of-this-world experience. 
Diani beach has been crowned Africa's best beach destination for six years by the World Travel Awards. If you are looking for a relaxing, calming, and serene beach holiday destination, Diani is the place to be with 4 Days Mombasa flying package. 
Our 7 Days, 6 Nights, Mombasa & Masai Mara flight packages introduce you to the spectacular side of these two destinations. Here is how you can book the best 7-day Diani and Masai Mara Flying Packages with AjKenyaSafaris.com. 
Contact Us to Book the 7 Days Masai Mara to Momba Flights Package 
Just book the tour and start enjoying it. If you would like to customize or book this trip, click here. Alternatively, call or WhatsApp us at +254-748-258-880. We are also available through email at james@ajkenyasafaris.com or safarioffers@ajkenyasafaris.com.
The Summarized, 7 Days, 6 Nights Masai Mara & Diani Flying Safari
Trip Details 

Highlights 

Day 1

Welcome to Kenya, Flight to Mara, & Game Drives 

Overnight at Keekorok Lodge 

Day 2

Full-Day Game Drive at Masai Mara with Packed Lunch 

Overnight at Keekorok Lodge

Day 3

Morning Game Drive, Maasai Village, & Flight to Diani

Overnight at Jacaranda Indian Ocean Beach Resort 

Day 4

Spend Time at Diani Beach/Hotel

Overnight at Jacaranda Indian Ocean Beach Resort 

Day 5

Wasini Day Trip with Lunch 

Overnight at Jacaranda Indian Ocean Beach Resort 

Day 6

Mombasa Day Trip with Lunch at Tamarind Restaurant

Overnight at Jacaranda Indian Ocean Beach Resort 

Day 7

Check-Out & Flight to Nairobi (JKIA)

Items Included 

Local flights, All pickups & transfers, Service of a professional safari guide, Game drives, Wasini day trip, Mombasa day trip, Accommodation, and More

Items Excluded 

Hot air balloon, Visa, Money transfer fee, Personal expenses, Alcoholic drinks, and Insurance 

Safari Price

Per Person Sharing from USD 2150
The Detailed 6 Nights, 7 Days Masai Mara and Mombasa Flying Packages Itinerary
The cost of the Mombasa and Masai Mara flying package incorporates all the essential for an educative and memorable tour. Lodging, meals, daily game drives, transport, domestic flights, transfers, and Diani activities are all part of the price.
Day 1: Flight from Nairobi to Masai Mara & Game Drives 
We are your chauffeurs for the next seven days, and your comfort is our highest priority. Our transfer member shall be at the airport or the agreed pickup location 1 hour in advance. You shall board the transfer vehicle and head to Wilson airport to catch a flight to Masai Mara.
There are several options for flights to Masai Mara, like Safarilink, Mombasa Air, AirKenya Express, Fly 748, and others. The flight takes only 45 minutes and depending on your arrival time, we head straight for a morning game drive or to the accommodation for lunch. 
We will leave you to relax and rejuvenate for the real adventure that starts later today in the late afternoon. 
Day 2: Optional Hot Air Balloon Safari & Full-Day Game Drive at Masai Mara 
Remarkable sceneries have to be everyone's idea of perfect. This is precisely what you will get on day 2 of this three days Masai Mara travel package. You can head out at dawn for a hot air balloon safari over the reserve at an additional USD 450. If you opt out, you will go for a game drive. 
The balloon safari starts at dawn after coffee and briefing. It gives you a 1 hour 360 degrees bird's eye view of the Masai Mara savanna grassland. You can devour the marvelous-looking plains, lush green vegetation, and meandering rivers from the vantage view. 
Expect to spot large populations of hyenas, giraffes, rhinos, hyraxes, gazelles, lions, leopards, cheetahs, and elephants. Masai Mara Balloon rides are an absolute joy and, hands down, the most luxurious way to experience the Mara terrain and ecosystem.
Booking your Masai Mara holiday packages between July and October will be in time for the adrenaline-packed wildebeest migration. The annual event sees the migration of over 1 million zebras and wildebeests from the Serengeti plains in Tanzania to Kenya Masai Mara national reserve. 
Read more about the Masai Mara wildebeest migration here. Watching the migration as the animals make the life-threatening dive into the crocodile-infested Mara river an unforgettable experience. The one-hour balloon ride ends with a delicious bush breakfast and champagne. After breakfast, you will proceed with the game drive in Masai Mara. 
With over 95 mammal species and nearly 450 bird species, the Mara has the best wildlife viewing chances worldwide. The guide drives you along the 1,510 sq. km searching for these animals. The possibility of spotting a lion chasing an antelope is high in the Mara…be on the lookout!
You will have a packed lunch with you. This will allow you to venture deep into the Mara, unveiling all its wonders. Guaranteed sightings include elephants, buffaloes, rhinos, different species of antelopes, lions, wildebeest, and more. You head back to our hotel at sunrise but not before a toast of wine over sundowners.
Day 3: Morning Game Drive, Visit a Maasai Village, & Flight to Diani
No two game drives in the Mara are the same, except for their exceptionality. You take a dawn game drive out to the wild in search of the evergreen pastures. A hyena's ambush over the lion's last night's dinner is to be expected.
Also, expected the magical morning spring of the gazelles among the grasses. On day 3 of your Masai mara flying packages, the plan is to find any animals you may not have seen on days one and two of your Masai Mara safari. 
There are countless other animals to see, including the bat-eared fox, elands, black-striped baboons, reedbucks, impalas, and of course, the Orbis. The scenery is magnificent; a backdrop made even more surreal by the frequent roar and trumpet of the lions and elephants.
You continue with the game drives till noon. You then head to a Maasai village and take your packed lunch on the way. The Maasais' are a fascination. Their irrefutable bond and peaceful coexistence with the wild baffles many to date. 
The visit lets you learn about their century-old customs and impeccable bush skills. Their Maasai beads are a definite must-have. There is a lot to do and learn here – but we will let you discover it yourself. 
From here, our Masai Mara safari guide will transfer you to the airstrip to catch a flight to Diani. The 1-hr 45 minutes flights from Masai Mara to Mombasa take you to Ukunda Airport in Kwale County. Diani Beach is only five minutes drive from here. Our team will transfer you to the hotel.
Day 4: Spend Time in Diani/Hotel – About Diani 
There are beaches, and then there is Diani. And how do you know we are not exaggerating this? The World Travel Awards have declared it the best beach in Africa for six consecutive years, that is how. 
Diani Beach is magnificent, and we are not only talking about its marvelous coastline and deep blue waters here. We are talking of its overall ambiance, scenery, and landscape. Diani is an entertainer, and judging from the myriad of activities to engage in here, the chances of getting bored are at zero. 
Deep-sea diving, snorkeling, diving, windsurfing, kayaking, and kiting are some of the things you could do here. Your flying packages to Diani is never complete without some partying. 
You can head to the Forty Thieves Bar for that. That's where the beer never runs cold. How about a luxurious dinner cruise across the Indian Ocean? The options are unlimited. Here, you get to choose what to do and see. Of course, we will be there to assist you. 
Day 5: Wasini Day Trip with Lunch 
Today you will spend yet another day along the coast of Kenya. But this time you will head to Wasini Island. The experience here will be breathtaking. The highlights here will include a visit to Kisite marine park, surfing, sand bathing, and boat tours where you will spot animals such as turtles and marine tortoises.
However, a visit to Wasini is not complete without snorkeling. With the help of the local guides, get into the water and enjoy a swim with the dolphins and other aquatic animals. After lunch at the island, you can decide to stroll around the island and learn more about the Swahili culture, visit a fishing village, or just relax at the beach.
Day 6: Mombasa Day Trip with Lunch at Tamarind Restaurant 
Mombasa is one of the oldest towns along the coast of Eastern Africa, and with age comes the town's immense history dating back to the 15th century. Your morning will start with a visit to Fort Jesus- a fort built by the Portuguese in the 16th century in a bid to try and control the Eastern Coast of the Indian Ocean.
Other places you will visit include Haller Park, Mombasa Marine National Park, Mombasa Old Town, Mombasa Hindu Temple, and Mamba Village. At around 1pm you will have a sumptuous lunch at Tamarind Restaurant where you will be treated to different seafood and mouth watering Swahili dishes.
Day 7: Spend Time in Hotel/Diani & Flight to Nairobi
You spend the morning of your last day of the Mombasa and Masai Mara holiday package at the beach. At 3 pm, our team will drive you to the Ukunda Airport, from where you will board your flight back to Nairobi (JKIA)
Kwaheri (Bye). Hoping to welcome you back to Kenya soon.
Items Included in the 7 Days Diani and Masai Mara Flight Packages 
Airport/hotel pickup on day 1
Full board accommodation
All park fees 
Service of a professional safari guide 
Bottled mineral drinking water 
Flight from Nairobi to Masai Mara 
Game drives at Masai Mara on day 1
Full-day game drive on day 2
Morning game drive on day 3
Visit a Maasai village on day 3
Extra lunch from the hotel on day 3
Flight from Masai Mara to Diani on day 3
Wasini day trip with lunch on day 5
Mombasa day trip with lunch at Tamarind Restaurant on day 6
Late check-out on day 7
Flight from Diani to Nairobi on day 7
All pickups and transfers 
Items Excluded from the 6 Nights Mombasa & Masai Mara Flight Packages 
Pre-travel expenses, Visa, Passports, insurance, immunization, etc.
International flight air ticket
Any drink not included above, like beer
Personal expenses
Tips for driver and guide
Money transfer fee
Hot air balloon 
Easter, Christmas, and New Year supplements of USD 50 Per Person Per Night  
Safari Price Per Person for the 7 Days, 6 Nights Masai Mara and Diani Flying Safari
| | |
| --- | --- |
| Dates/Month | Price Per Person Sharing |
| 1st Jan -31st Mar | USD 2359 |
| 1st Apr – 30th June | USD 2130 |
| 1st July – 31st Oct | USD 2729 |
| 1st Nov – 19th Dec | USD 2273 |
| 20th Dec – 1st Jan   | USD 2997 |