The Ultimate Guide to Tsavo East National Park - Everything You Need to Know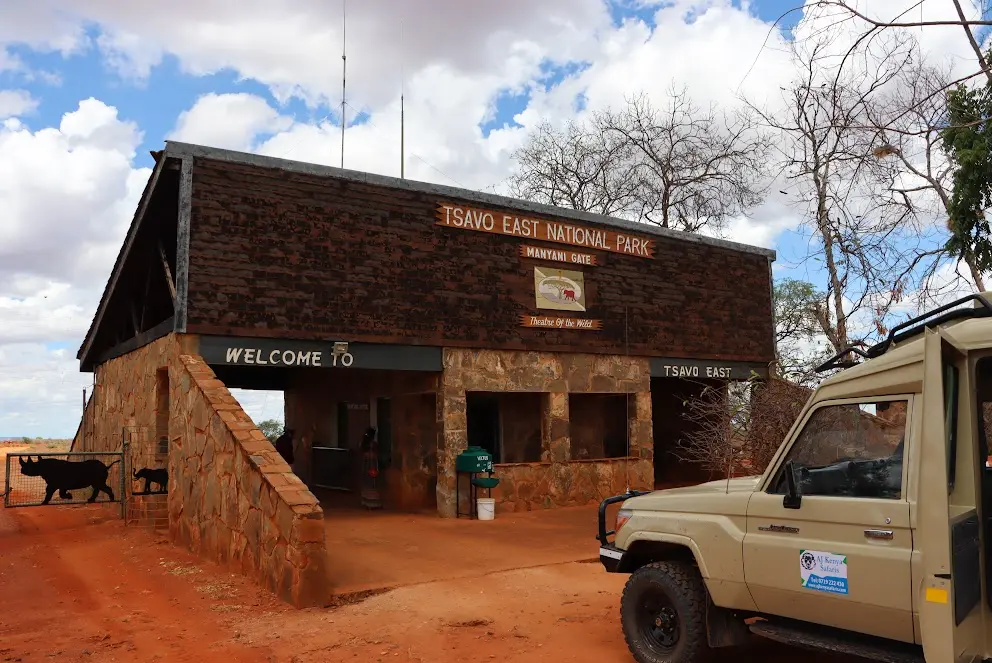 Tsavo East National Park is one of Kenya's oldest and largest national parks, together with Tsavo West National Park. The park covers an area of 13,747square kilometers and is home to a diverse range of wildlife, including lions, elephants, rhinos, and leopards. 
Tsavo East is also known for its large birdlife population, with over 500 species recorded in the park. Visitors to the park can enjoy game drives, bush walks, and bird-watching safaris. The park is located approximately 200 kilometers from the capital city of Nairobi.
Her beauty and magnificence have stolen the hearts of millions of tourists worldwide. Her excellent features and attractions guarantee a far from ordinary Kenya safari experience. The park is always known to satisfy.
 Book Your Tsavo National Park with Us Today – Contact Us
AjKenyaSafaris.com is a travel company dedicated to making your stay in the country as luxurious as possible. Our Kenyan-born and-raised tour guides are more than qualified for the job. 
They are well-trained and equipped with skills that make your Kenya safari terrific. You can book your Tsavo East National Park safari with us by calling or sending a WhatsApp message at +254-748-258-880. We are also available through emails at james@ajkenyasafaris.com or safarioffers@ajkenyasafari.com. 
 Our Most Booked Tsavo East National Park Packages and Other Tours 
 Facts About Tsavo East National Park in Kenya 
The history of Tsavo National Park started in 1948, making it one of the oldest parks in the region. It covers a whopping 13,747km2, making it a massive exploration and wildlife viewing area.
Tsavo National Park Location is 173 kilometers North West of Mombasa and 333 kilometers southeast of Nairobi. Her proximity to the sandy beaches and stunning tourist attractions of Mombasa and Malindi ensures that the fun doesn't stop at sea.
The park is a natural ground with different ecosystems, such as dry plains, flatlands, swampy marshlands, and thorny bushes. Her annual temperature is relatively constant because she is a few degrees south of the equator. 
The tropical day temperature ranges from 27-31 degrees, while the night temperature ranges from 22-24 degrees. The weather is good for safaris from October to December, except for some light rain showers. Humidity in the park is unusually high from December to April.
 Activities and Things to Do at Tsavo East National Park 
You might wonder whether to visit Tsavo East National Park or Masai Mara National Reserve. The two are different, and you can enjoy various activities at Tsavo East, from safari drives and nature walks to birdwatching and camping. It is the perfect place to get away from it all and experience the beauty of nature.
 1. Tsavo National Park Animals Viewing
Nothing equates to a gaming experience at the Tsavo East National Park. For many years, the park has become a tourist destination for curious game lovers worldwide. It has a lot to offer regarding its game and wildlife. 
It teems with animals such as the red-dust elephant, Hirola, leopard, rhino, lion, hippo, buffalo, crocodile, Gerenuks, waterbucks, Lesser Kudu, gazelles, giraffes, zebras, and hartebeests. The best time for wildlife watching is mornings and late afternoons since most animals tend to sleep through the hot midday sunshine.
 2. Tsavo National Park Bird Watching
Birders should check out the Tsavo East National Park. The park is home to over 500 easy-to-spot bird species. Carry your camera with you, for this is the only park that offers a rare sighting of some of the continent's unique birds.
These include the golden-breasted starling, vulturine Guinea fowl, Somali ostrich, Rosy-patched bush shrike, black-headed lapwing, eastern chanting goshawk, and the red-winged lark.
The most exciting part is that birding is done all year long. However, the November to April period is of particular interest to us. The number of birds is particularly significant during these six months, mainly due to the many migratory birds that make their way into the park.
You might, however, experience a strain on your bird-watching activities due to the short and long rains experienced during the period.
 3. Camping and Trekking at Tsavo East Park
Nothing is as rewarding as a night in the park. A night in this jungle is one you will live to remember. The park, of course, offers some of the best camping sites.
You could also trek while at it and experience an up-and-close encounter with some of the park's wild animals.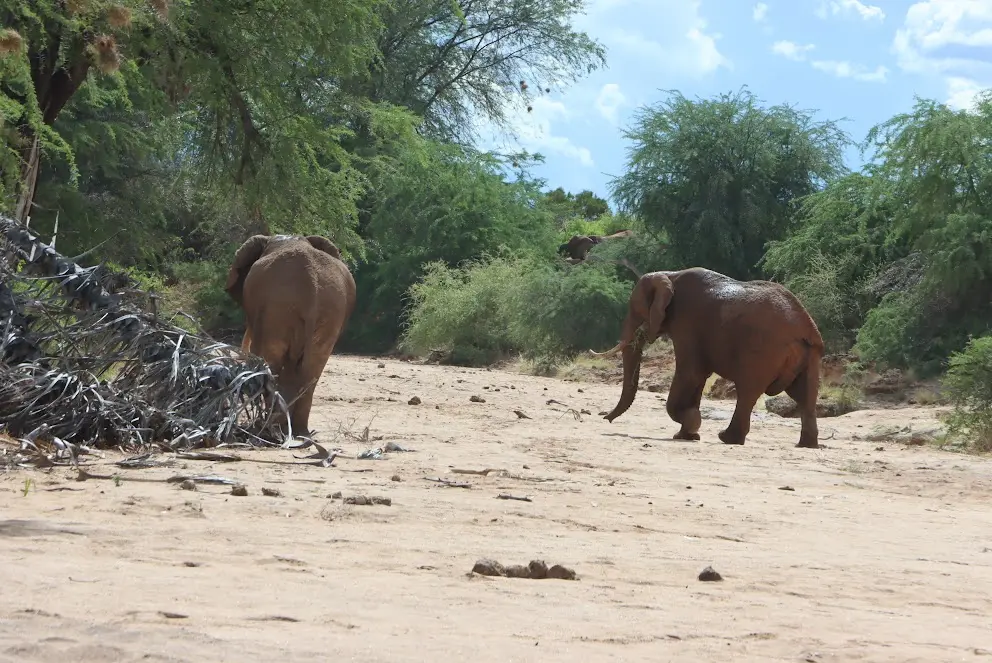 The Top Attractions in Tsavo East National Park
Tsavo East National Park is well known for its large population of elephants and lions. The park also has a rich history, dating back to when it was part of the vast Tsavo safari hunting ground. Today, the park is an important conservation area and a haven for some of Africa's most iconic wildlife. Other major attractions include.
 1. Yatta Plateau
It is outrightly illegal to visit the park and not pay a visit to the world's most prolonged lava flow. The Yatta Plateau is 290km long, and we guarantee you this, the plateau is as breathtaking as they come.
 2. River Galana
Nothing beats a visit to the crocodile-infested waters of the River Galana. The calm waters are cathartic by all means. Have your breath taken away by the dazzling Lugard's falls on the river.
 3. Aruba Dam
This is the perfect spot to catch a glimpse of the birds and animals you had yet to spot earlier. The dam provides water for all birds and animals in the park.
 4. Ngulia Rhino Sanctuary
The sanctuary was erected to end the illegal poaching of black rhinos. The park also houses animals such as elephants, hippos, crocodiles, leopards, cheetahs, lions, gazelles, and buffalos.
 Tsavo East National Park – FAQs and Answers 
Tsavo East is one of Kenya's most popular tourist destinations, with tens of thousands of visitors annually. Here are some frequently asked questions about Tsavo East National Park:
 1. What is the Best Tsavo East National Park Accommodation? What are the Best Tsavo National Park Lodges?
Tsavo East National Park hotels are fairly priced. The park offers a variety of housing options for you. There are camps such as the Finch Hatton's camp, Satao camp, Severin Safari Camp, and Ithumba camp.
Other good Tsavo East National Park lodges and camps include Kilanguni Serena camp, Lion's Buff lodge, Ngutuni Lodge, Severin Kitana Bandas, Tsavo Safari Camp, and Voi wildlife lodge. We also recommended the Man-eaters safari camp, Sarova Salt Lick Game Lodge, and the Voi Ziwani.
 2. When is the Best Time to Visit Tsavo East National Park?
The best time to visit Tsavo East National Park is in January and March. This is the dry season in Kenya, and the lack of rainfall makes it easier to spot wildlife. In addition, the cooler temperatures make hiking and other outdoor activities more comfortable. 
However, you should be aware that accommodations fill up quickly during this time of year. As a result, planning is essential for those who wish to visit the park during the dry season.
 3. How Do I Get to Tsavo East National Park?
There are a few different ways to get to Tsavo East Park. The most popular method is to fly into Moi International Airport in Mombasa or Jomo Kenyatta International Airport in Nairobi. From here, you can get to the park in several ways.
 By Road
Traveling by road is the best way to get to Tsavo East if you are in Kenya for a few days. The road trip from Nairobi to Tsavo East can take about 7-hr while from Mombasa is about 4-hrs. We transfer our clients in comfortable safari vehicles. 
 By Railway
The railway from Nairobi to Mombasa runs through Tsavo East National Park. The rail is cheap means of getting to the park. We will pick you up when you arrive at Voi SGR terminal, whether coming from Mombasa or Nairobi. 
 By Air
The park has six airstrips to her south and 13 north, all to make your travel faster. You can catch a flight from Mombasa, Diani, or Nairobi and land at this park. We will then pick you up and take you to the accommodation. 
 4. Which is Better? Tsavo East or Tsavo West 
Tsavo East and Tsavo West offer a unique experience for visitors to Kenya. Tsavo East is known for its large population of elephants, while Tsavo West is home to the iconic Big Five.
Both parks also offer a variety of other wildlife, including lions, leopards, and cheetahs. However, each park has its distinct character. Tsavo East is more open and expansive, with highlights including the Galana River and the Yatta Plateau. 
On the other hand, Tsavo West is more mountainous and lush, with highlights including Mzima Springs and Lake Jipe. Ultimately, deciding which park to visit depends on what type of experience you are looking for. 
If you want to see many elephants, Tsavo East is the better choice. Tsavo West may be a better option if you are looking for a more varied wildlife experience.
 5. How Much Does it Cost to Visit Tsavo National Park?
The cost of visiting Tsavo National Park depends on the type of accommodation you choose and the activities you want to do. Budget accommodation starts at around US30 per night, while mid-range accommodation starts at around US60 per night. 
For luxury accommodation, prices start at around US200 per night. Activities such as game drives and safari walks cost approximately US50 per person, while bush walks cost around US20 per person. Tsavo East National Park rates rise to about USD 60 per adult.
 6. What is Tsavo East Know For?
The park covers an area of over 13,700 square miles and is home to a diverse array of wildlife, including lions, elephants, leopards, and rhinos. Tsavo East is also known for its large population of Gerenuk antelope, which are known for their long necks and elegant limbs. 
Tsavo East is also known for its scenic landscapes, which include the Galana River and the Yatta Plateau. With its abundant wildlife and breathtaking scenery, the park is a popular destination for safari-goers worldwide.
 7. Is Tsavo National Park Good?
The park is home to a diverse range of wildlife, including elephants, lions, leopards, and rhinos. Tsavo also has scenic landscapes, including rivers, waterfalls, and mountains. You can explore the park on foot, by vehicle, or by boat. 
While the park has its share of problems, such as poachers and drought, it remains an essential haven for wildlife and a popular tourist destination.