Who Are the Big 5 Animals in Africa?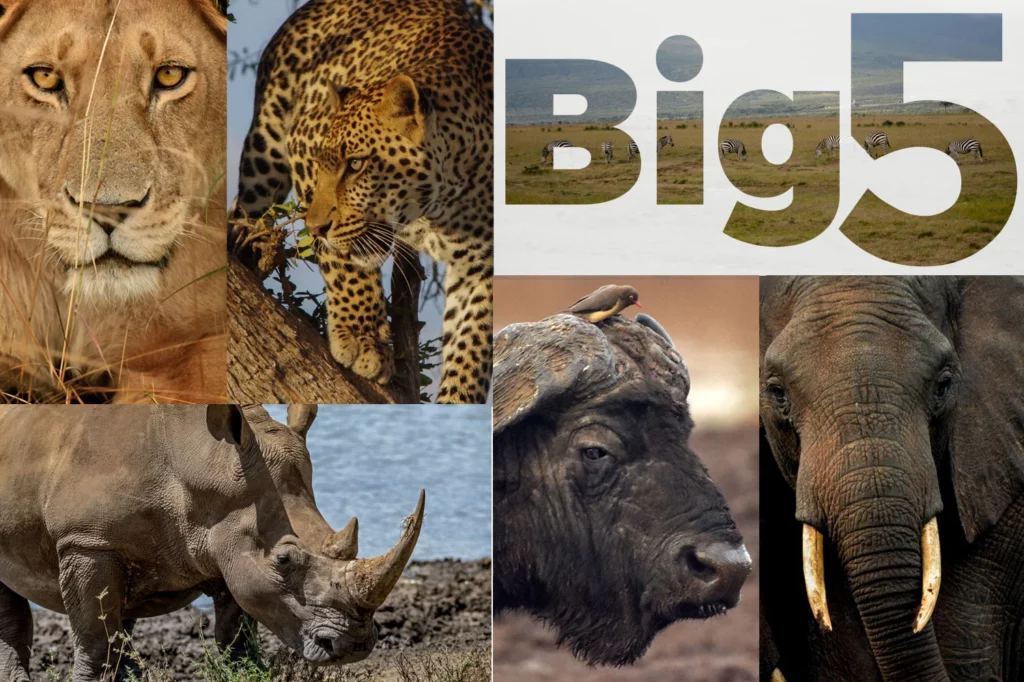 The Big 5 Animals of Africa, namely the African Elephant, the Black Rhinoceros, the Cape Buffalo, the African Lion, and the African Leopard, are an embodiment of the grandeur and beauty of the wilderness. This term "Big Five" traces back to big-game hunters, referring to the five most challenging animals to hunt on foot. 
Today, these creatures have become the cynosure of wildlife enthusiasts and tourists, drawing them to the heart of Africa. They represent the perfect blend of power, majesty, and grace, each unique in their characteristics and behaviors.
Let us delve into an exploration of these magnificent beings, their habitats, behaviors, and the roles they play in the African ecosystem.
How to Book Your Big Five Animals Safari with Us
Our Most Booked Kenya Safari Packages and Tours
| | | |
| --- | --- | --- |
| Our Top Tours for 2023/24 | Price Per Adult Sharing  | The Detailed Itinerary  |
| 3-DAY LUXURY 2024 MIGRATION TOUR  | FROM USD 2845 | |
| 5-DAY MIGRATION SAFARI 2024 | FROM USD 1655 | |
| 4-Day Mombasa Valentine Getaway 2024 | From USD 2180 | |
| 3-Day Amboseli Safari  | From USD 734 | |
| 1-Day Nairobi National Park & Giraffe Center Tour | From USD 119  | |
| 1-Day Nairobi National Park & Nairobi Animal Orphanage Tour | From USD 34 | |
| 12-Day Kenya Wildlife & Beach Safari  | From USD 4216 | |
| 18-Day Kenya Family Safari  | From USD 5849 | |
| 2-Day Hell's Gate & Lake Nakuru Safari  | From USD 507 | |
| 3-Day Huduma Day Safari to Masai Mara  | From USD 950 | |
| 3-Day Masai Mara Camp Packages – 2024 | From USD 985 | |
| 3-Day Masai Mara Christmas Packages  | From USD 1010 | |
| 3-Day Masai Mara Easter Packages – 2024 | From USD 1035 | |
| 3-Day Masai Mara Festive  Packages  | From USD 1315 | |
| 3-Day Masai Mara Lodge Safari | From USD 995 | |
| 3-Day Masai Mara Packages  | From USD 955 | |
| 3-Day Masai Mara Packages from Nairobi – 2024 | From USD 990 | |
| 3-Day Masai Mara Safari  | From USD 954 | |
| 3-Day Ol Pejeta Easter Safari | From USD 1175 | |
| 4-Day Africa Migration Masai Mara Packages  | From USD 1360 | |
| 4-Day L. Naivasha & Masai Mara Easter Safari | From USD 1249 | |
| 5-Day Tsavo & Diani Safari  | From USD 1606 | |
| 4-Day L. Naivasha & Masai Mara Safari | From USD 1174 | |
| 4-Day L. Nakuru & Masai Mara Safari | From USD 1162 | |
| 4-Day Masai Mara Camp Packages  | From USD 1195 | |
| 4-Day Masai Mara Easter Packages – 2024 | From USD 1300 | |
| 4-Day Masai Mara Migration Packages – 2024 | From USD 2490 | |
| 4-Day Mombasa & Diani Safari  | From USD 937 | |
| 4-Day Mombasa & Diani Valentine Safari – 2024 | At USD 1541 | |
| 5-Day Flying Safari to Masai Mara & Ol Pejeta Conservancy | From USD 3777 | |
| 6-Day Kenya Wildlife Safari from India  | From USD 1730 | |
| 7-Day Kenya Christmas Safari | At USD 3093 | |
| 7-Day Kenya Wildlife Safari | From USD 1884 | |
| 8-Day Kenya Wildlife Safari  | From USD 4413 | |
| 8-Day Wildlife & Beach Safari | From USD 1585 | |
Big Five Animals Facts - Characteristics of the Big Five Animals
The Big Five animals have specific characteristics that make them stand out from other African wildlife. We will look at some of  the facts and information related to these animals.
With an estimated kill of over 15 big animals per year, it comes as no surprise that the lion is dubbed the king of the 'jungle'. Africa alone has over 20,000 lions, making the continent your safest bet of lion safaris yet. Here are ten facts about lions that you should know as you look forward to your African safari adventure.
Lions have a lifespan of 10-14 years

Female lions do most of the hunting. Take that, male chauvinists!

This might come as a heartbreak to the lion king fans, but lions do not actually live in the jungle. They are found on the savannah grasslands

You can hear a lion roar from as far as 8kms away. Talk about that mighty roar!

That lion's power comes from power naps that can last for over 20 hours per day.

Male lions typically weigh 190kgs while female lions weigh 130kgs

Lions have a maximum speed of 80km/h

The rate at which lion populations are dwindling worldwide has got the animal on the UN red alert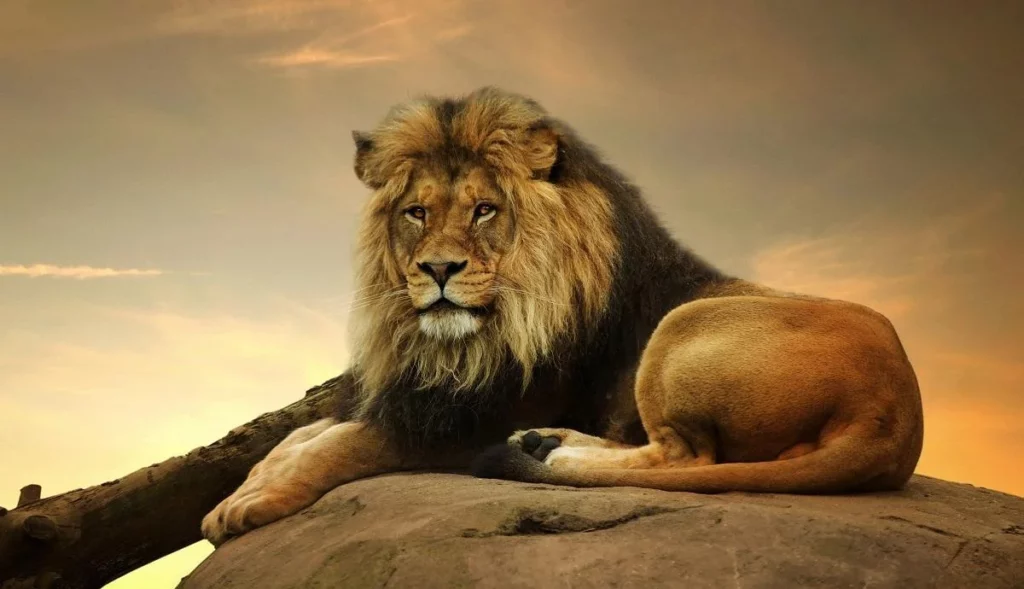 Disney has half the world fooled with that elephant-are-afraid-of-the-mouse tale. Here are 5 legit elephant facts.
There are close to 500,000 elephants in Africa

Adult elephants have no prey. Baby elephants, however, are at risk of predator attacks.

There are 3 species of elephants; the Asian, African savannah, and African forest elephant. So no, an elephant isn't just an elephant

We'll tell you why you should not be under an elephant. Male elephants are as heavy as 7500kgs while female elephants can weigh up to 6,000kgs.

Think of elephant tusks as your incisors under enlargement. Elephant tusks are just elongated incisors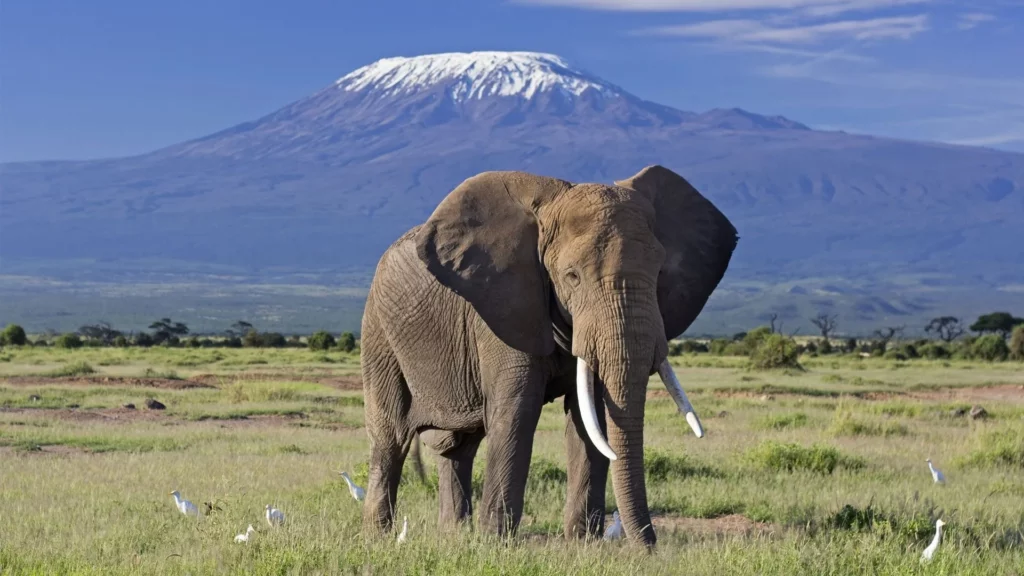 Forget the white rhino-black rhino philosophy, both come in the same grey color. Here are five more interesting facts about rhinos.
The rhino is the second largest mammal on land with the black rhino weighing anywhere from 1000kgs and the white rhino from 3500kgs.

Rhinos can run as fast as 30km/hour over short bursts!

Running in a zigzag to escape a rhino is actually not a midwife's Due to their humongous size rhinos cannot only run in a straight line.

Hard as the rhino horn may look, it is actually made from the same material your nails are made of.

Rhinos reportedly have very small brains but make no mistake, these creatures are as intelligent as dogs.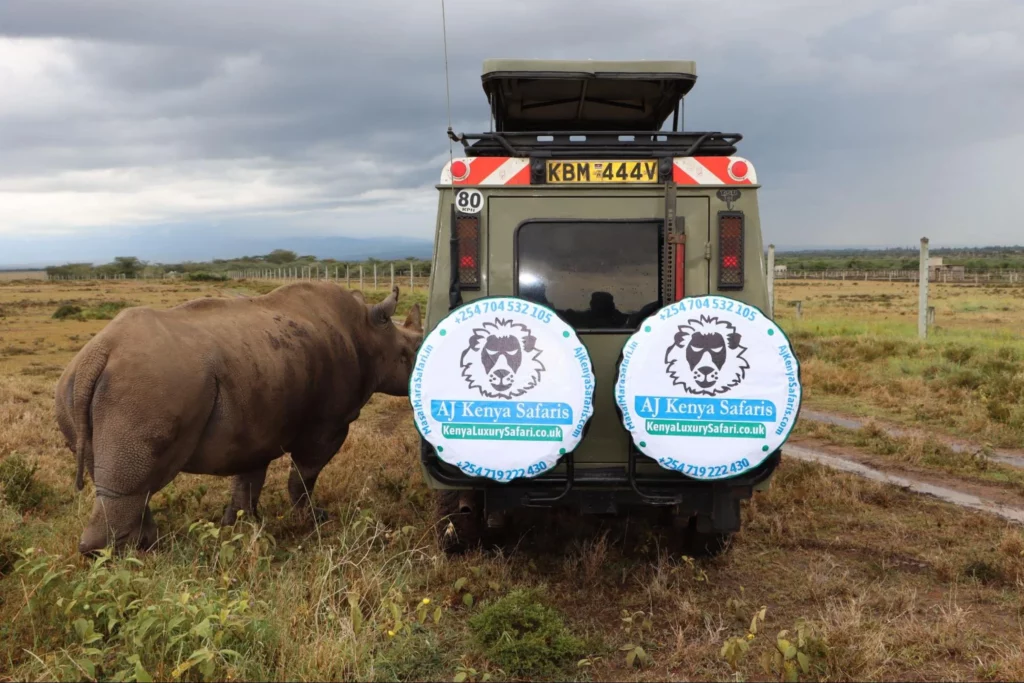 The leopard is a ruthless killer as it is a hunter. They slowly and quietly stalk their prey until a range of 10m is achieved. They then pounce on the unsuspecting prey, killing them with a lethal throat bite.  Here are five more interesting facts about leopards.
Most leopards have light-colored fur with dark rose-shaped spots known as rosettes. Dark furred leopards do exist, though their dark color makes it hard to view the spots around their fur.

Leopards can run as fast as 58km/h. Their 6-meter forward leap is also as impressive

Leopards are nocturnal prey, preferring to spend their days on trees or in caves. They are more active during the night though, which is when they go hunting.

Leopards are highly territorial, choosing to strictly limit their interactions to mating only.

Leopards have a 12-17 year lifespan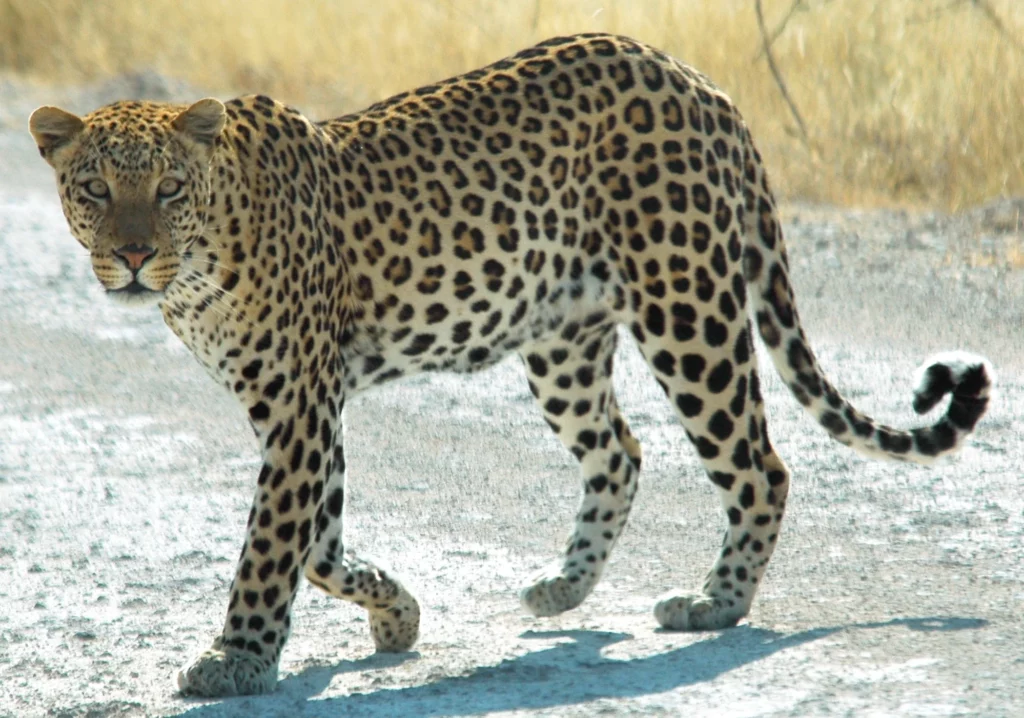 5. African/Cape Buffaloes
You are twice more likely to be killed by a cape buffalo than a lion? Interesting? Here are 5 more fascinating facts about cape buffaloes
Four times stronger than an Ox, a buffalo is more likely to win in a fight with a lion. Well, not surprising seeing that cape buffaloes are as tall as 11 feet with a maximum weight of 1900 pounds and dagger-like horns.

Buffaloes are surprisingly good swimmers

Male cape buffaloes weigh anywhere between 650-800kgs while female buffaloes weigh between 550-700kgs

Buffaloes have a lifespan of about 18-20 years

Buffaloes are extremely moody. A calm buffalo can charge at you within seconds.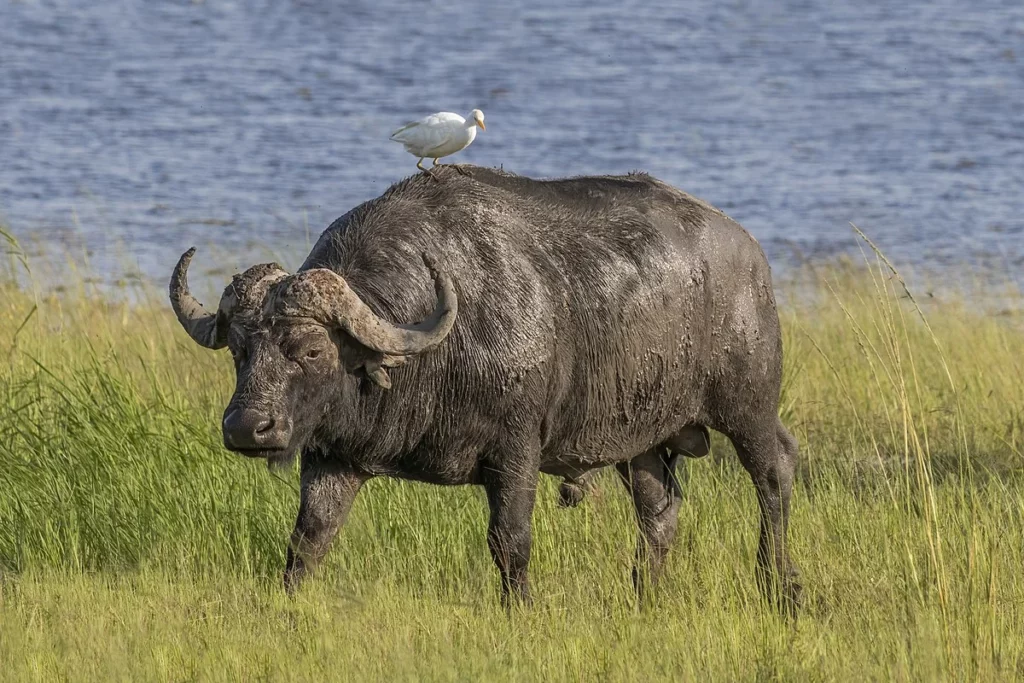 Where to Find the Big 5 Safari Animals in Africa
The big five animals can all be found in the African savannah and bush-land. Other inhabitants such as national parks, game reserves and other protected areas are also great places to spot the big five animals.
On the eastern side of Africa lies Kenya. A country proud of being home to the Masai Mara Game Reserve, the Diani Beach, and over 52 national parks and game reserves. It is also while in this East African country that you will find Mt Kenya, the second-highest mountain in Africa.
Particularly stunning, however, is its high appeal and adaptation to being the leading Big Five safari destination in Africa. As mentioned, the country boasts slightly over 52 national parks, a large majority of which house the Big 5 animals.
The best national parks for game drives in Kenya are:
The Mara needs little introduction. The park outdoes itself when it comes to iconic grassland savannas, hot air balloon safaris, and the show-stopping Wildebeest Migration.
More than 100  wildlife species thrive in the Mara including lions, elephants, leopards, cheetahs, wild dogs, hyenas, rhinos, hippos, wildebeests, and more. On a safari in Masai Mara, your Big 5 game viewing chances are at the highest.
Big five safari adventures in Kenya come at all shapes and prices;
Budget safaris average at $200 per person sharing

Mid budget safaris at $300 PPS

Luxury safaris at $550+ per person sharing
Kenya should definitely be your African country of choice if what you are looking for is fulfilling, fun, and adventurous Big five safaris.
The month of July all through to September are the best months to visit Kenya for a number of reasons. First, the mentioned months are dry and wildlife is way easier to spot during the dry seasons. Secondly, the extraordinary Wildebeest Migration, July to October, falls within the months.
2. Tanzania - Big Five Animals
On the eastern wing of Africa, north of Kenya and west of Rwanda lies Tanzania. The country has gained massive popularity for its beautiful attractions like Mount Kilimanjaro, Serengeti national park, Zanzibar beaches, and the Mafia Island.
Tanzania has the world to offer when it comes to game drives. Parks to look out for being the Ngorongoro, Serengeti, and Tangire National parks. The Mount Kilimanjaro and Lake Manyara parks are equally promising.
There are 300 animal species in the Serengeti alone, the Serengeti Big 5 being one preceded by its reputation. The park additionally offers insane sceneries, perceptive ambiances, and amazing landscapes.
The nearby Ngorongoro has over 26 black rhinos, 70 to 75 lions, 300 elephants, and over 4000 buffaloes. Now, this is not to say that Tanzania is only limited to wildlife. Her coast is lined with some of the most spectacular beaches in the world, museums, and the interesting Swahili culture.
A Serengeti big 5 safari won't cost you much;
A budget safari averages at $275 PPS

Mod-range safaris at $400 PPS

Luxury safaris at $600+ PPS
The best time to tout Tanzania is from late June to October during the dry season. You can also witness Wildebeest calving from January to February.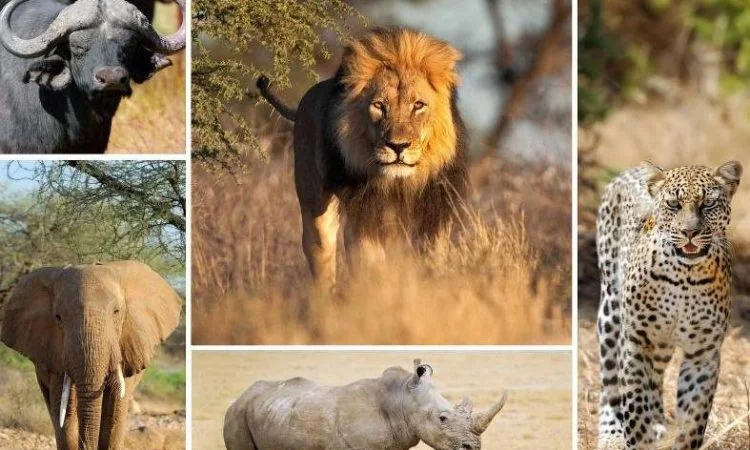 3. Botswana - Big 5 Animals Africa
When on a lion safari to Botswana, do make a point of stopping over the Okavango. The air is crispier here, the lions fiercer, and the savannah fierier.
Some of the attractions that put Botswana on the map include the Okavango delta, Kalahari Desert and the Makgadikgadi Salt Pans. That and, of course, the immense wealth of Big 5 animals present in the country.
So where exactly is Botswana? Botswana lies on the southern side of Africa, north of South Africa and east of Namibia. The country is great for first-time safaris, with populations of over 130, 000 elephants ready to welcome the curious guests.
The Chobe National Park, for example, houses 50,000 elephants well complimented by generous amounts of lions, cape buffaloes, and hyenas. The massive 700kg Cape buffalo is also housed in the Okavango, as well as the sharp sensed rhino, elusive leopard, and the trunked elephant.
Other Big Five African animal parks in Botswana include the Moremi Game Reserve, the Nxai Pan, and the Khama Rhino sanctuary. Next, let's detail the average cost of a Safari in Botswana:
A budget safari to Botswana costs $350 PPS

Mid-range safaris $525 PPS

Luxury safaris $750+ PPS
Best Time to Visit Botswana
Big five safaris to Botswana are best done in the dry seasons between May and October.
4. South Africa - Big 5 Animals in Kenya
Perhaps the most alluring of South Africa is the thrill that comes with the search for the Big five animals. Don't, however, get it twisted, South Africa is home to other attractions, the Table Mountains and the Cape of Good Hope being the most popular.
To honor her astounding beauty are the World Travel Awards and the Lilizela Tourism Awards. South Africa as a Big 5 safari destination needs little introduction. There are at least 100,000 known species of plants and animals spread across the 20 national parks in the country.
10,000 of these are lions, 4500 leopards, 4000 rhinos, and 24,000 elephants. Your best chance of viewing all the big five animals are the Kruger, Kgalagadi, Addo, Mapungubwe, and Hluhluwe national parks.
The Addo Elephant Park, for example, boasts 600 elephants, spotted hyenas, over 48 black rhinos, lions, 400 cape buffaloes, and the non flying dung beetles. All the mentioned parks also have a lot to offer when it comes to their scenery, and exciting activities to engage in.
To see the Big 5 animals in South Africa, contrary to popular belief, doesn't cost an arm and leg.
Budget lion safari South Africa ranges at $225 PPS

Mid-luxury safari adventures at $225 PPS

Luxury lion safaris at $575+ PPS
Best time to visit South Africa
The dry month running from May to September is the best time to visit. Animals are easier to spot then, especially at the water points where they all gather for refreshment.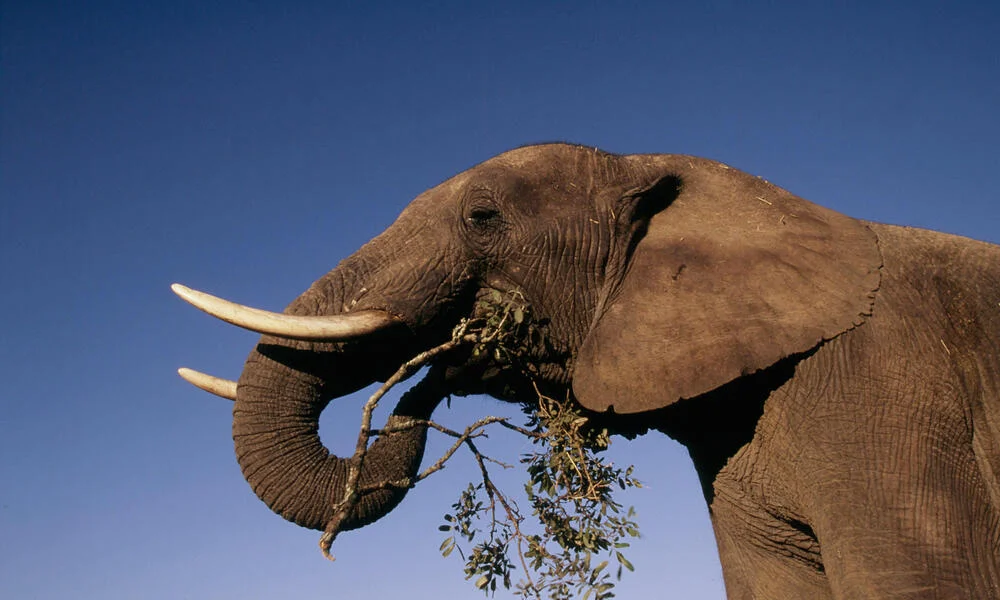 You might have heard about the Victoria Falls, and if not, a safari adventure to Zimbabwe might be your best chance yet. Zimbabwe, like Botswana, is on the southern side of Africa, and thanks to its distinctive safari opportunities, the country is best for first-time safaris.
Your best chance of the Big five game spotting in Zimbabwe is the Matobo Hills, Mana pools, Hwange, and Gonarezhou National Parks. With a 430 black rhino population and an additional 290 white rhinos, your chance of viewing the highly endangered creatures is high.
The Matobo Hills National Parks, for example, is renowned for housing the world's densest leopard population, while Gonarezhou boasts over 11,000 elephants.
Budget safaris to Zimbabwe cost $225 PPS

Mid-range safaris range at $375 PPS

Luxury safaris range $550+
Best Time for Safari Adventures to Zimbabwe
The mild temperature months of May to October are the best time to visit Zimbabwe. The temperatures do however go to high extremes in October and September.