Mosi-oa-Tunya - Victoria Falls Travel Guide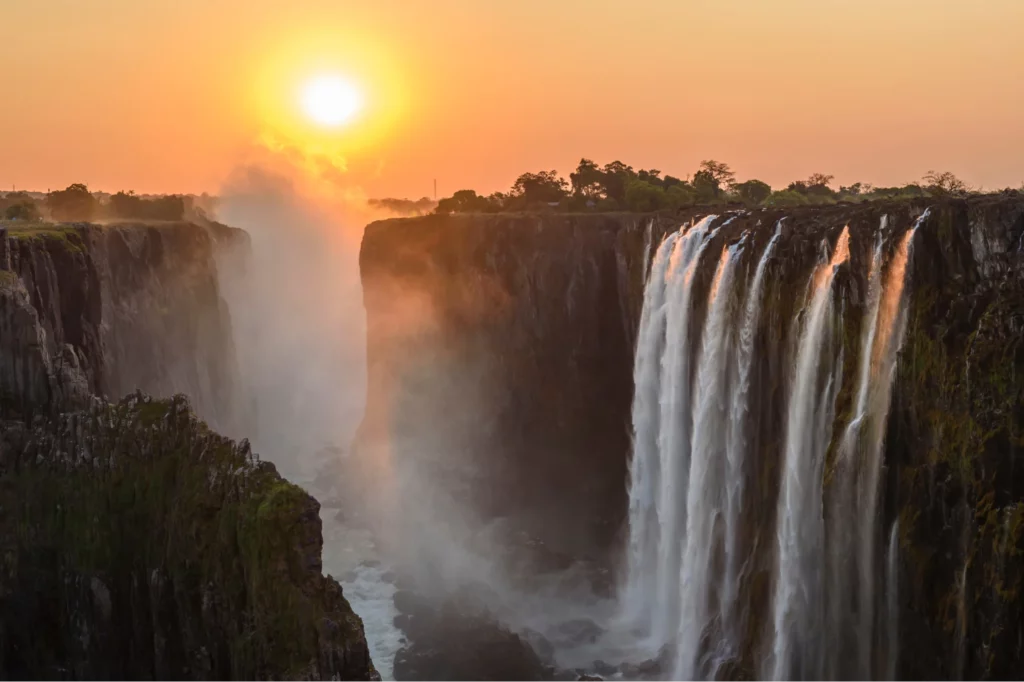 Victoria Falls is a magnificent waterfall located on the border of Zambia and Zimbabwe in Southern Africa. It is known as "Mosi-oa-Tunya" which means "The Smoke That Thunders" in the local languages. 
The falls are part of the Zambezi River, which forms the border between these two countries. Every minute, over 500 million cubic meters of water plummet a hundred meters below and into the mighty Zambezi River in a thunderous roar.
This roar can be heard as far away as 40 kilometers, and the spray mist can be seen from 50 kilometers. It is for this reason that the local Kololo tribe named this world spectacle 'Mosi-oa-Tunya' or 'The Smoke that Thunders.'
Deservedly, it is classified as one of the Seven Natural Wonders of the World. Victoria Falls is located in Southern Africa, between the borders of Zambia and Zimbabwe, along the Zambezi River.
This UNESCO World Heritage Site is the world's largest curtain of falling water and one of the widest. Often, it is compared to the two waterfalls that can match its majesty- America's Niagara Falls and the Iguazu Falls in South America.
Because of its location between two countries, you can choose to see it from either side or even better, from both sides. In Zimbabwe, it falls within Victoria Falls National Park and in Zambia, Mosi-Oa-Tunya National Park.
From Zimbabwe, you can catch up to 75% of the waterfall in all its iconic glory. You can also combine your waterfall tour with a wildlife safari. Zambia might have limited viewing options, but boasts the Devil's Pool, nature's own infinity pool. Be warned; this is only for the fearless.
In this Victoria Falls travel guide, we will tell you everything you need to know about a Victoria Falls safari, from cost to the best time to visit. We will also highlight some of the must-do activities while here. By the time you are done reading our Victoria Falls travel blog, you will be ready and raring to go!
How Can Book Your Safari with AjKenyaSafaris.com Ltd.
Our Best and Most Booked Kenya Safari Tours
| | | |
| --- | --- | --- |
| Our Top Packages 2023/24  | Safari Price From  | The Detailed Itinerary |
| 13 Days Honeymoon Safari in Kenya – 2024 | From USD 14,964 | |
| 3-DAY LUXURY 2024 MIGRATION TOUR  | FROM USD 2845 | |
| 5-DAY MIGRATION SAFARI 2024 | FROM USD 1655 | |
| 4-DAY MASAI MARA MIGRATION PACKAGES – 2024 | FROM USD 2490 | |
| 3-Day Masai Mara Camp Packages – 2024 | From USD 985 | |
| 3-Day Masai Mara Easter Packages – 2024 | From USD 1035 | |
| 3-Day Masai Mara Flying Safari 2024 | From USD 1192 | |
| 3-Day Masai Mara Packages from Nairobi – 2024 | From USD 990 | |
| 4-Day Masai Mara Easter Packages – 2024 | From USD 1300 | |
| 4-Day Mombasa & Diani Valentine Safari – 2024 | At USD 1541 | |
| 4-Day Mombasa Valentine Getaway 2024 | From USD 2180 | |
| 2-Day Hell's Gate & Lake Nakuru Safari  | From USD 507 | |
| 3-Day Amboseli Safari  | From USD 734 | |
| 3-Day Huduma Day Safari to Masai Mara  | From USD 950 | |
| 3-Day Masai Mara Christmas Packages  | From USD 1010 | |
| 3-Day Ol Pejeta Easter Safari for 2024 | From USD 1455 | |
| 4-Day L. Naivasha & Masai Mara Easter Safari | From USD 1249 | |
| 4-Day L. Naivasha & Masai Mara Safari | From USD 1174 | |
| 4-Day L. Nakuru & Masai Mara Safari | From USD 1162 | |
| 5-Day Flying Safari to Masai Mara & Ol Pejeta Conservancy | From USD 3777 | |
| 5-Day Tsavo & Diani Safari  | From USD 1606 | |
| 6-Day Kenya Wildlife Safari from India  | From USD 1730 | |
| 7-Day Kenya Christmas Safari | At USD 3093 | |
| 1-Day Nairobi National Park & Giraffe Center Tour | From USD 119  | |
| 1-Day Nairobi National Park & Nairobi Animal Orphanage Tour | From USD 34 | |
| | From USD 4216 | |
| 18-Day Kenya Family Safari  | From USD 5849 | |
Top 10 Victoria Falls Facts - Things to Know
Here are 10 interesting facts about this natural wonder that will make you want to visit it even more.
Formation:

Victoria Falls, known by the locals as Mosi-oa-Tunya, was formed between two countries; Zambia and Zimbabwe, millions of years ago. It is situated on the Zambezi River in southern Africa.

Size:

With a height of 355 feet and a width of one mile, Victoria Falls is considered to be the largest waterfall in the world.

Discovery:

Although Victoria Falls has been part of local African culture for centuries, it was first discovered by Scottish explorer David Livingstone in 1855 and named after Queen Victoria.

Ecosystem:

The area surrounding Victoria Falls is rich in biodiversity, with over 75 species of mammals and around 2,000 plant species. It is also home to the famous Big Five animals; lion, leopard, elephant, rhinoceros and buffalo.

Devil's Pool:

Located at the edge of Victoria Falls on the Zambian side, Devil's Pool is a natural rock pool that allows visitors to swim right at the edge of the falls during low water season.

Rainbow Falls:

Due to the constant spray of water from the falls, a beautiful and vibrant rainbow can often be seen over Victoria Falls, making it a popular spot for photographers.

Moonbows:

On full moon nights, when the sky is clear and there is enough light, visitors may be lucky enough to see a moonbow, which is a rare phenomenon that occurs at Victoria Falls.

Livingstone Island:

Located at the edge of Victoria Falls on the Zambian side, Livingstone Island offers visitors a unique opportunity to stand in the same spot where David Livingstone first saw the falls.

Adventure Activities:

For adrenaline junkies, Victoria Falls offers a variety of adventure activities such as bungee jumping, white-water rafting, and zip lining.

Conservation:

Victoria Falls is a UNESCO World Heritage Site and efforts are being made to preserve its natural beauty and the surrounding ecosystem.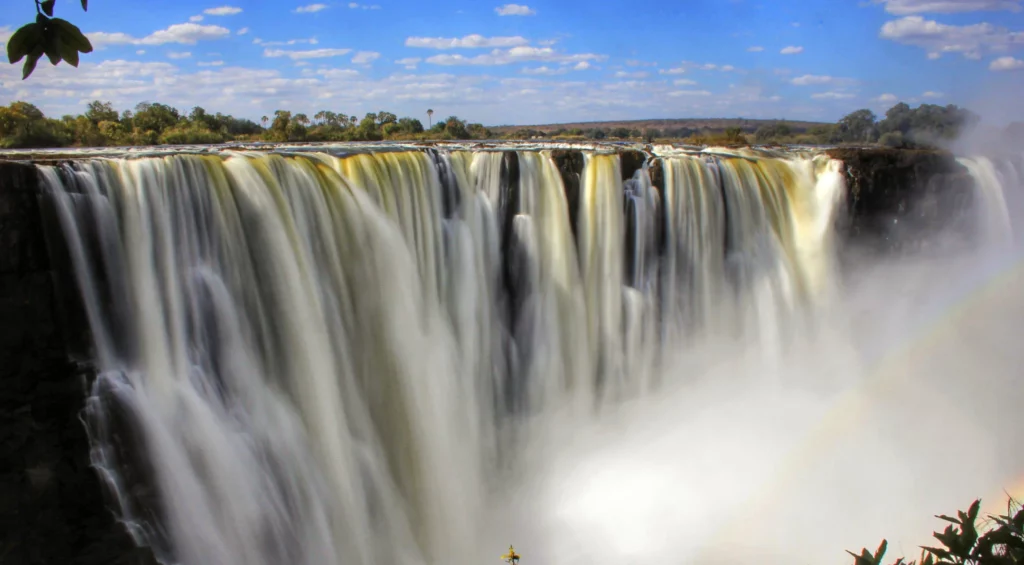 Which Side is the Best to See Victoria Falls; Zambia or Zimbabwe?
This is one of the most common questions about Victoria Falls. You can choose to see it from Zambia or Zimbabwe, or as pointed out earlier, from both sides. Here is what you can expect from each side and how to get to Victoria Falls from these countries.
Victoria Falls Travel Guide from Zimbabwe
In Zimbabwe, the Smoke that Thunders is found in Victoria Falls Town.  You can quickly fly into the international airport here either directly from your country or as most people do, from South Africa.
Zimbabwe boasts the lion share of the falls, with over 70% of the falls visible from here. It also has as many as 16 viewing points, each with a different perspective of the falls. The cliff walks are breath-taking, and you will have some of the most picturesque backgrounds at your disposal.
Because of the sprays from the waterfalls, this side rarely dries up, even in the dry season. Visitors can still enjoy spectacular views despite low waters.
Since the Zimbabwe side has always been the more popular side, infrastructure such as hotels and roads is well established. These developments have also been controlled, allowing wildlife to thrive at the park. This means that you enjoy not only the waterfalls but also game safaris.
Victoria Falls is a small town lined with cafes and curio shops that provide ample souvenir shopping opportunities
Victoria Falls Travel Guide from Zambia
On the Zambian side, Victoria Falls is located in Livingstone Town, which is about 10 km from the falls entrance. Zambia has fewer views of the falls but allows you much closer contact. You can actually see the falls from the same angle that David Livingstone first observed in 1855.
Some of the biggest attractions that you can only do on the Zambia side are swimming on the Devil's Pool and Livingstone Island tours. Zambia has worked hard to catch up with Zimbabwe in terms of infrastructure, and you can now find plenty of accommodation.
Unfortunately, during the dry season, the Zambian side has less water, and you might not enjoy the same excitement as the wet season gives.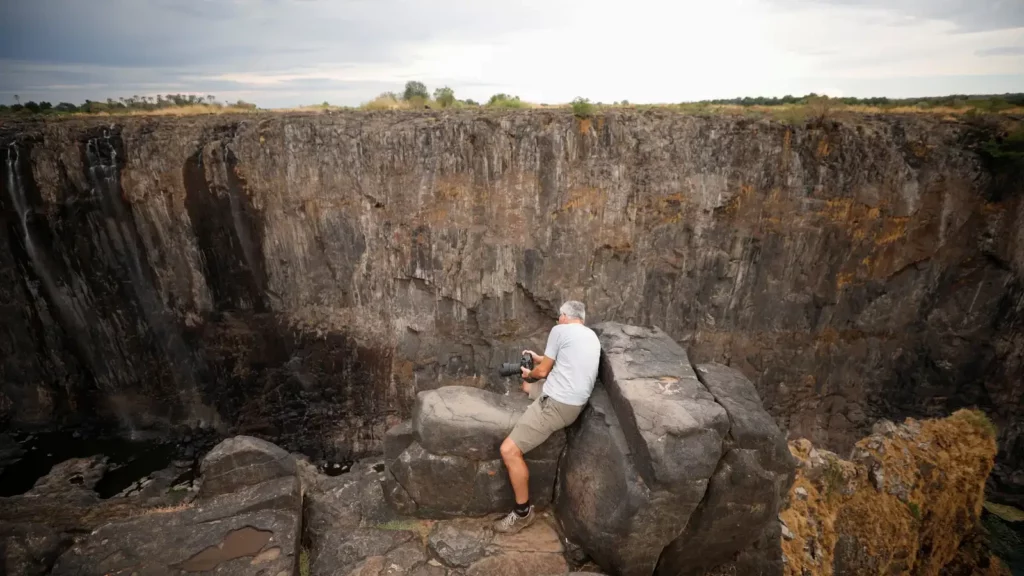 What is the Best Time to Visit Victoria Falls?
Whether you want to witness the roaring falls up close or take part in thrilling activities such as bungee jumping or white water rafting, planning the best time to visit Victoria Falls is crucial. The weather conditions and water levels can greatly affect your experience at the falls.
High Water Season (February to May)
The high water season at Victoria Falls is from February to May, after the rainy season in Southern Africa. During this time, the Zambezi River is filled with a large volume of water and the falls are at their most powerful.
This is an ideal time for photographers and nature lovers as the mist from the falls creates stunning rainbows and lush greenery surrounds the area. However, due to the high water levels, some activities such as white water rafting may not be available.
Low Water Season (June to August)
The low water season at Victoria Falls is from June to August, during the dry winter months in Southern Africa. The water levels are significantly lower and the falls are less impressive compared to other times of the year.
However, this is the best time for activities such as bungee jumping and swimming in the Devil's Pool, as the water levels are safe and allow for a more thrilling experience. It is also easier to navigate through the falls during this time.
Shoulder Seasons (September to October & December to January)
The shoulder seasons at Victoria Falls are from September to October and December to January. These months offer a balance between the high and low water seasons, making it a popular time to visit.
The falls are still powerful enough to create beautiful rainbows, but not too overpowering that activities are restricted. This is also a great time for wildlife viewing as many animals gather around the Zambezi River.
While each season offers its unique experiences, the best time to visit Victoria Falls for activities is from June to October. The mild temperatures and lower water levels make it perfect for adventure activities such as white water rafting, bungee jumping, and swimming in Devil's Pool.
However, if you want to witness the full force of the falls, plan your trip during the high water season from February to May. And if you want a balance between activities and sightseeing, the shoulder seasons from September to October and December to January are ideal.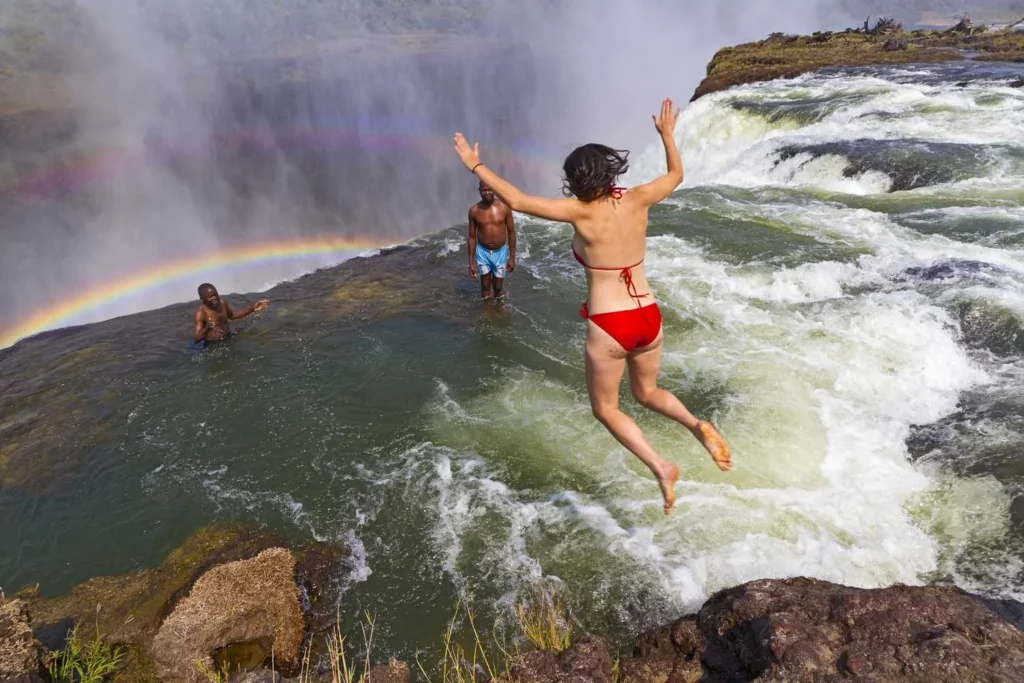 Must-Do Activities during a Victoria Falls Safari
Now that you have an idea of what shapes up a great tour to this side of Africa, let us look at the best Victoria Falls activities. Below is what a trip to victoria falls composition should include:
Victoria Falls Walking Tours
This is why you came all the way- to get up close and personal with the Smoke that Thunders. A guided tour is a great way to take in the majesty of the falls. Although you will see the water sprays and hear the roaring of the water long before you actually get there, nothing prepares you for the awe-inspiring sight that awaits you.
Tunnels through the rainforest will lead you to the edges of the falls, and you have a choice of 16 viewpoints from where you can take it all in. One of the best times to be here is early morning as the sun rises, tinting the water spray gold.
Viewpoint 7 has the best views of the central falls, and 6 gives the best views of the Devil's Cataract. We recommend that you hire or bring raincoats or protective gear as you will get drenched! This is especially important for electronic equipment such as cameras.
Victoria Falls White Water Rafting
White water rafting at Victoria Falls is considered one of the most exciting adventures in the world. If adrenaline is your thing, then this is the activity for you. You can indulge in rafting from either side of the waterfalls, but please note that rainfall pretty much dictates when this can be done.
Specifically, white water rafting is only available when the waters are low between August and December. A typical trip starts at 7 am where you get brief and safety equipment.
There are numerous rapids along the river, and you can guess what to expect from names such as The Terminator, Judgement day, and Devil's Toilet Bowl. Going through the rapids will leave your hair raised, but thankfully, you will encounter calm stretches of water that give you a chance to catch your breath.
After 19, you can finally take a short 250m walk to the top of the gorge for lunch, as you take time to reflect on what just happened down there.
You can enjoy the beauty and majesty of the Zambezi on a luxury cruise. This is a great way to view hippos, elephants, crocodiles, and waterbuck as they drink by the river banks.
There is also an array of birdlife that only makes the cruise more exciting. There are various cruises set to cater for all budgets, from small intimate boats to large cruises for 100 people.
The cruises stay on the upper Zambezi, keeping away from the waterfalls. You will not see the falls but will still experience amazing views of the water sprays. Depending on your preferences, you can opt for a breakfast, lunch, or dinner cruise. Needless to say, the dinner cruise is the most popular on either side of the river.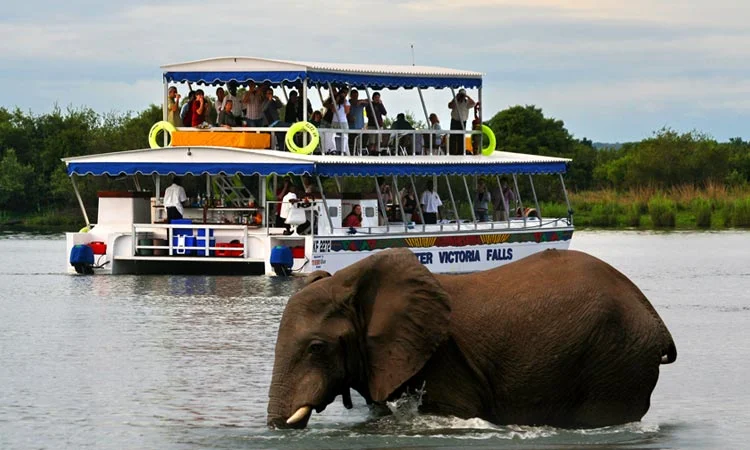 Devil's Pool & Livingstone Island Tour
These two activities are only available on the Zambia side of Victoria Falls. Livingstone Island was formed as a way of preserving the natural habitat and only allows 24 people at a time. You can only visit when the water levels are low between June and March.
Each trip to Livingstone Island lasts about two hours, and upon arrival, a guide welcomes you with a traditional drink. He then leads you to the edge of the falls and further west for a view, unlike any you have seen before.
If you are lucky enough to witness a rainbow across the falls, you can be sure that this is one of the most beautiful sights you will ever see. Swimming on the Devil's Pool is only available when the water levels are really low, likely between August and December.
It requires a bit of courage as lying on this rock reveals the 100m drop to the bottom of the falls. If you are an adrenaline junkie, this is a must-do activity.
Game Viewing at Victoria Falls National Park
Africa is home to some of the best wildlife viewing in the world, and Victoria Falls doesn't disappoint. The Victoria Falls and Zambezi National Parks stretch over 56,000km and are home to elephants, lions, buffaloes, and zebras.
Other than mammals, the Zambezi River hosts over 70 species of fish, including the tiger fish, a target for most fishers. If you are an avid birdwatcher, look out for the African Skimmer, Western-banded Snake Eagle, and the African Finfoot.
Also nearby is the Stanley & Livingstone Private Game Reserve, where you can view over 200 animal species. Here, you will likely encounter at least three of the big five, including the elusive black rhino.
You can also enjoy a bush dinner or an evening game drive for a chance to catch the predators in action.
Bungee Jumping off the Victoria Falls Bridge
Bungee jumping is said to be the ultimate adrenaline thrill, and at Victoria Falls, it is that and more. Think of the tallest building in the world, the Burj Khalifa, and add a few floors to it, then think of plummeting from the top.
That will be your experience as you jump off 111m from the Victoria Falls Bridge free falling to the Zambezi River below. It is hard to imagine the terror, but if this is your cup of tea, then you will fit right in.
The jump requires a minimum age of 14 years, and you must not be heavier than 120kg. The jumping arena is located at the border crossing between the two countries, and you must show your passport to enter.
You will be able to purchase photos or a video of your jump to preserve this memory.
Victoria Falls Helicopter Ride
There is viewing the majesty of the Victoria Falls on the ground level, and then there is taking it in from the sky. The aptly named 'flight of the angels' gives you a whole different perspective of the falls with the sheer size leaving your mouth agape.
From the sky, you will see the mighty Zambezi as it meanders its course, zigzagging through gorges. As you fly over the falls, you will see both Livingstone and Victoria Falls towns and beyond.
This is a pricey way of touring Victoria Falls, but if you can afford it, you can be sure that it is some of the best money you have ever spent.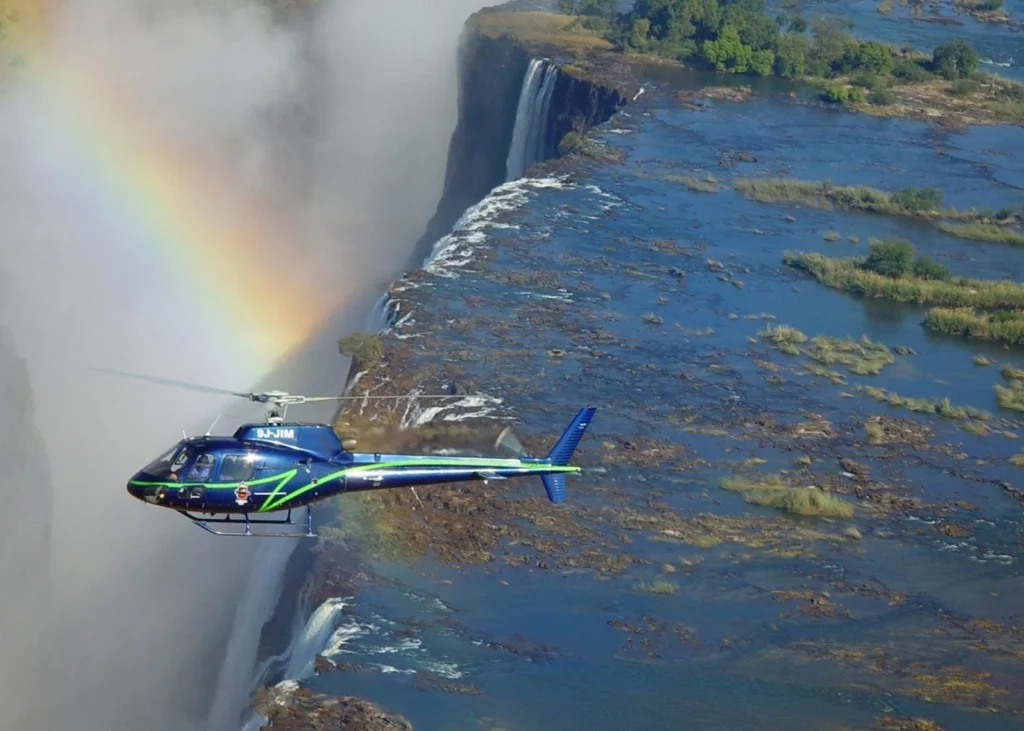 Where Can I Stay During My Victoria Falls Safari?
During your Victoria Falls safari, you will have plenty of options for accommodations. From luxury lodges to budget-friendly campsites, there is something for every type of traveler.
If you are looking for a lavish and comfortable stay during your safari, then luxury lodges are the way to go. These lodges offer top-notch amenities such as spa treatments, fine dining options, and private plunge pools. 
Some popular luxury lodges in Victoria Falls include the Victoria Falls Safari Lodge, Matetsi River Lodge, and Zambezi Sands River Camp.
For those looking to save money during their safari, there are several budget-friendly options available in Victoria Falls. These include campsites and backpacker hostels that offer basic facilities at a lower cost. 
Some popular budget-friendly accommodations include Shoestrings Backpackers Lodge, Victoria Falls Rest Camp, and Shearwater Explorers Village.
If you are traveling with a group or looking for a more intimate experience, private villas are another great option for accommodation in Victoria Falls. These villas offer spacious living areas, fully equipped kitchens, and private gardens or pools. 
Some popular private villas in Victoria Falls include Elephant Hills Resort Villas, Imbabala Zambezi Safari Lodge, and Batonka Guest Lodge.
For a unique experience in the heart of nature, safari tents are the perfect choice for your Victoria Falls safari stay. These tents offer all the comforts of a traditional accommodation but with the added thrill of being surrounded by the African wilderness.
Some popular safari tent options include Elephant Camp, Gorges Lodge, and The Stanley and Livingstone Boutique Hotel.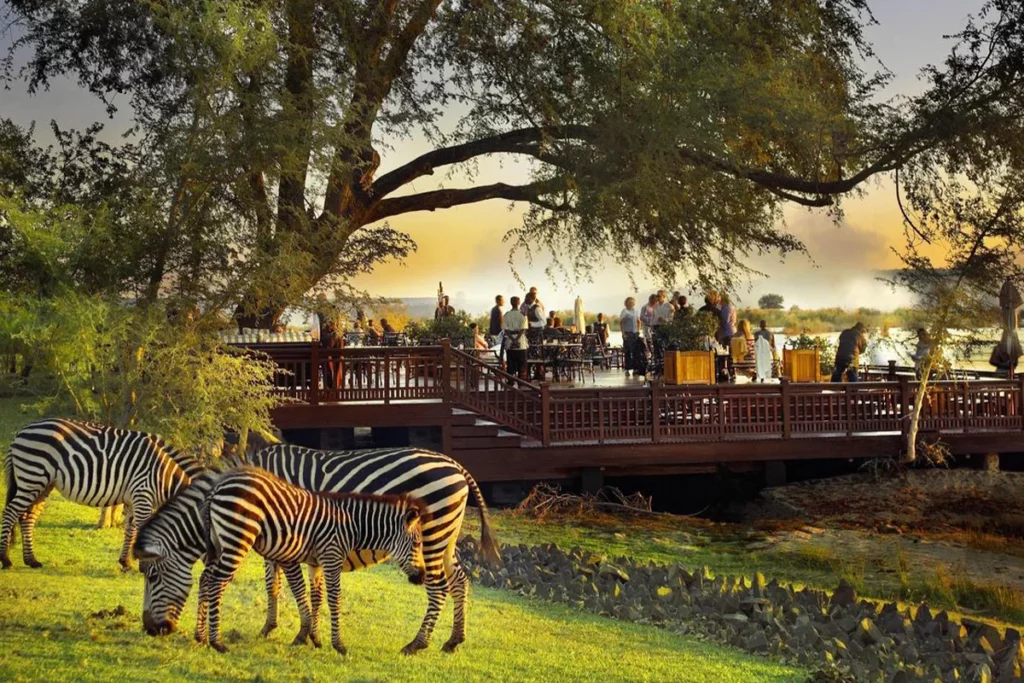 Commonly Asked Questions About Victoria Falls
You might be wondering if there are any other questions about Victoria Falls that are commonly asked by travelers. Here are some answers to a few more frequently asked questions
1. Is it safe to swim in the Devil's Pool?
Yes, it is generally considered safe to swim in the Devil's Pool during certain times of the year when water levels are lower. However, it is important to follow the guidance of your guide and take all necessary precautions.
2. What is the best time of year to visit Victoria Falls?
The best time to visit depends on what you want to experience. If you want to see the falls at their highest volume, then plan a trip between February and May. For a more peaceful experience, visit between September and November when the water levels are lower. The peak tourist season is from June to August.
3. Is it necessary to book a tour or can I explore on my own?
While it is possible to explore Victoria Falls on your own, booking a tour is highly recommended as it allows you to fully experience all that the falls have to offer with the help of a knowledgeable guide. Additionally, there are certain areas that can only be accessed with a guide.
4. Are there any other activities besides viewing the falls?
Yes, there are plenty of other activities to do at Victoria Falls such as bungee jumping, white water rafting, sunset cruises, helicopter rides, and wildlife safaris. There is something for everyone at this popular destination.
5. What is the currency used in Zimbabwe?
The official currency of Zimbabwe is the Zimbabwean dollar, but US dollars and South African rand are also widely accepted. It is recommended to bring a combination of cash and credit cards when traveling to Victoria Falls.
6. Do I need a visa to visit Victoria Falls?
It depends on your nationality. Visitors from most countries require a visa to enter Zimbabwe, which can be obtained upon arrival or through an e-visa system. It is best to check the current visa requirements for your specific nationality before traveling.
7. Is it safe to travel to Victoria Falls alone?
While solo travel can be an enriching experience, it is always important to exercise caution and be aware of your surroundings when traveling alone. Overall, Victoria Falls is considered a safe destination for solo travelers, but it is always recommended to take necessary precautions and follow common travel safety tips.
8. Is there any local culture or customs I should be aware of?
The people of Zimbabwe are warm and welcoming, and visitors are expected to show respect for the local culture and customs. It is important to dress modestly out of respect for the local values, and always ask for permission before taking photos of people or sacred sites.
Learning a few basic phrases in the local language, Shona, can also go a long way in showing your appreciation for the culture. Overall, embracing the local customs and traditions can greatly enhance your experience at Victoria Falls.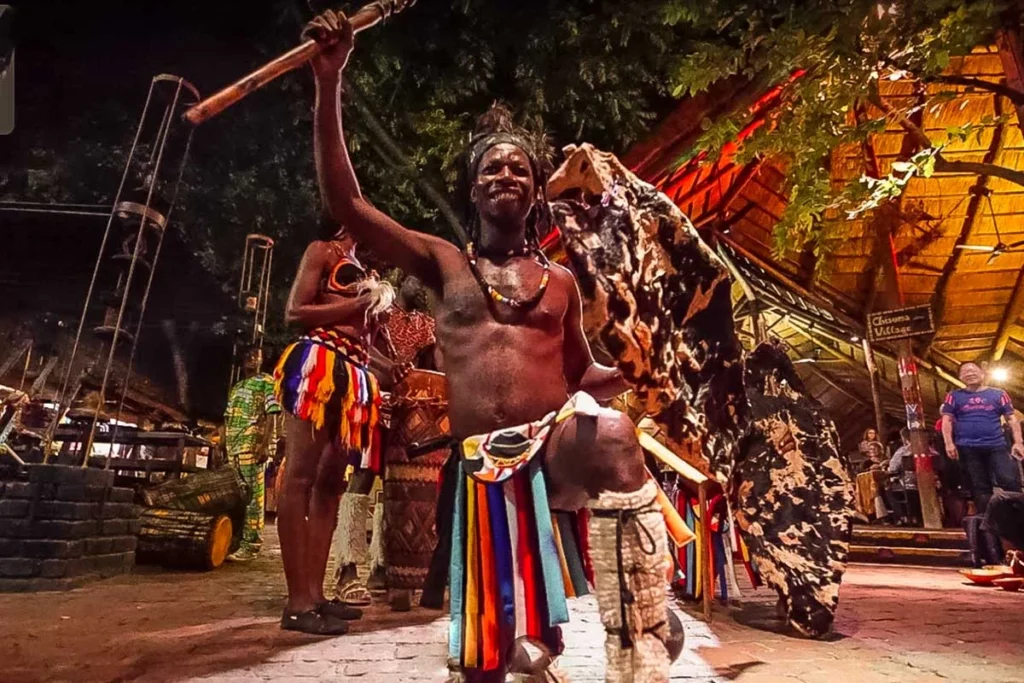 9. Are there any precautions I should take before visiting?
It is recommended to consult with a healthcare professional for any necessary vaccinations or medications before traveling to Zimbabwe. It is also important to check the current safety and security situation in the country before planning your trip.
Additionally, it is advised to have travel insurance that covers medical expenses and potential emergency evacuations. Taking these precautions can help ensure a safe and enjoyable trip to Victoria Falls.
10. What is the best way to get around at Victoria Falls?
The most common modes of transportation in Victoria Falls are taxis, buses, and rental cars. It is important to only use licensed taxis and negotiate fares before getting into the vehicle as some may try to overcharge tourists.
Buses are a cheaper option but may be crowded and unreliable. Renting a car can offer more flexibility, but it is important to familiarize yourself with local driving laws and road conditions beforehand. Many tour companies also provide transportation for specific activities or tours.
11. How do I get to Victoria Falls?
Both Victoria Falls and Livingstone airports can be reached directly from major African cities. You can take a flight from South Africa, Botswana, Kenya, Namibia, or Ethiopia.
Specific airlines have flights on particular days of the week, so we recommend that you consult with us well in advance.
12. Should I be worried about Malaria at Victoria Falls? What about Yellow Fever?
The rainy season will undoubtedly bring mosquitos with it, but most here do not carry malaria. Malaria tablets are a personal preference, but it is advisable to bring a repellent as mosquitos, and other insects can be a nuisance.
Zambia and Zimbabwe do not fall on a Yellow Fever belt, and a vaccination certificate is not required.
13. What is the Cost of a Victoria Falls Safari?
The cost of a safari at Victoria Falls can vary depending on the type of safari, duration, and level of luxury. On average, a three-day safari can range from $500 to $2000 per person. It is recommended to research and compare different tour companies and packages to find one that fits your budget and preferences. 
Some safaris may also require additional fees for park entrance and activities. 
14. What should I pack for my trip to Victoria Falls?
Some essential items to pack for your trip include comfortable walking shoes, sunscreen, insect repellent, a hat, and appropriate clothing for both warm and cool weather. It is also recommended to bring a waterproof bag or cover for your camera or electronic devices, as the mist from the falls can be quite powerful. 
Depending on your planned activities, you may also need to pack appropriate gear such as swimwear, hiking shoes, or a rain jacket. Lastly, don't forget to bring any necessary travel documents and medications.
15. What is the local cuisine like at Victoria Falls?
Zimbabwean cuisine is influenced by various cultures, including British, South African, and traditional Shona and Ndebele dishes. Some popular local dishes to try include sadza (a staple food made from maize), biltong (dried meat), and game meats such as crocodile and impala. 
There are also plenty of options for international cuisine at restaurants in Victoria Falls, but trying the local dishes can give you a taste of the unique flavors and culture of Zimbabwe.  Overall, food lovers will not be disappointed with the variety of options available at Victoria Falls. 
16. What is the weather like at Victoria Falls?
The weather at Victoria Falls is generally warm and sunny, with temperatures reaching highs of around 28°C (82°F) during the day. However, it can also get chilly at night, with temperatures dropping to around 15°C (59°F). 
The rainy season in Zimbabwe is from November to April, so be prepared for potential rain if traveling during this time. The mist from the falls can also create a cooler and wetter microclimate in the surrounding areas. It is recommended to pack layers and waterproof gear for your trip to Victoria Falls.