Kenya Walking Safaris - The Ultimate Guide to Walking Safari in Kenya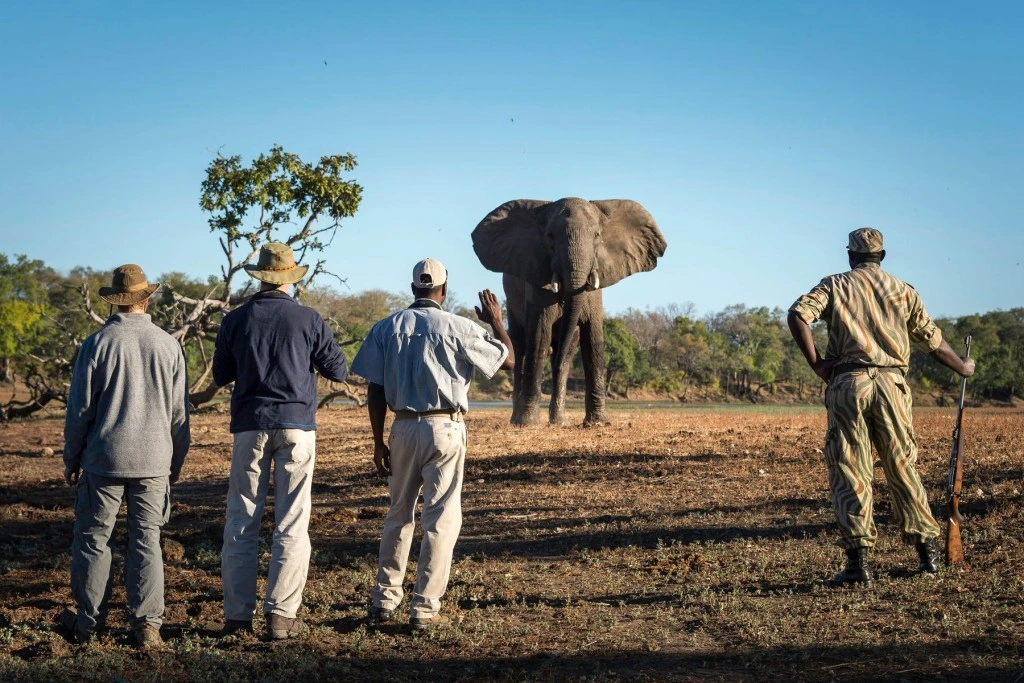 What is a walking safari in Kenya? Whenever you mention Kenya safaris to people, the same picture game drives occur to 99% of the respondents. This is because game drives have been the only way to have a safari excursion over time. 
Most people do not know that Kenya walking safaris have existed for as long as game drive safaris; they were not formalized, and only locals participated in them. But with time, walking safaris in Kenya have grown into something magical. 
If you are a wildlife enthusiast or a nature freak, you must be a fan of NatGeo Wild. I get overly excited when I see the cameras get up close and personal with the big animals that I only dream about. 
Imagine being in the same space and breathing with a Kenyan lion, a heavily tusked elephant bull, or experiencing the birth of a baby giraffe. It is all so divine. Although these walking safaris will not allow you to be up close to lions or leopards for your safety and theirs, you will still be able to view elephants, zebras, gazelles, and so much more.
Walking safaris in Kenya, more commonly known as bush walks, are precisely that. Walking in the bush. Instead of the usual tour around a game park in your 4*4 safari land cruiser, you will get to explore the wild on foot. 
Just you and the breathtaking Kenyan wild. Walking safaris offer a more intimate experience as you will be on the ground walking through the reserved wildlife conservation areas.
Not only will you be taught how to track animals using their droppings, but you will also get adequate knowledge about the plants that make up the bush. Walking safaris in Kenya offer you fun, education, and an unmatched chance to interact with the locals who most often will be part of your caravan.
Sleeping under the stars, waking up to the songs of birds, taking a shower in the wild, and eating freshly picked food and fruits. It does not get better than this. 
If you feel like the trek is too fast for you, they gladly give you a guide to walk with you at your pace, and no pressure whatsoever is placed upon you. So, if you have similar doubts, do not worry; you will be catered for.
And when they walk does get too much for you, there are always cars and/or camels to carry you to your preferred destination.
Book Your Walking Safari in Kenya Today with AjKenyaSafaris.com
Our Most Booked Walking Tours in Kenya & Other Packages
How Do Walking Safaris in Kenya Operate?
Although every experience is different, and adjustments are always made to fit the needs of the specific group, there is a general way in which things are done. The tour starts at dawn, around 6 a.m.
It is kick-started early so that you can beat the hot Kenyan afternoon sun. Most walks take approximately five hours, so by 11a.m, you should have finished your exploration of the Kenyan bush. About 15 kilometers are covered per walk.
During your walk, you will be accompanied by English-speaking tour guides and local guides who act as your security and first-hand source of information. Having lived all their lives in these areas, maintaining an unbreakable bond between them and nature, they have learned and understood how the wild works. 
They will tell you what tree or herb does what. You will be surprised to know that the leaves of a specific plant may be poisonous while its roots are medicine or vice versa. They will give you the local names of all the plants.
The guide will also teach you how to walk on specific terrains while conserving your body energy and show you how a rhino's droppings mean it is sick or in a hurry.
Walking safaris in Kenya are made to include everyone in the family. They are also dynamic and fun; by the time you finish a day's walk, you will swim in so much enlightenment.
However, it is not all walking and learning. There are exciting bits to look forward to, such as meal times, sunsets, encounters with animals, and evening social sessions. Here you will sit and get entertained by the guides and locals.
Types and Options of Walking Safaris in Kenya
There are three main types of walking safaris. These categories differ mainly in terms of time spent walking and the types of accommodation provided.
Bush Peeking Walking Safaris
You will take simple peeks of the bush through one or two-hour walks. These short trips are arranged for guests who do not want to or cannot undertake the five-hour treks for one reason.
Therefore, the guides make planned visits to nearby spots in the same space as the camp, and the guests return to their accommodations in a few hours. Usually, the camps will be of permanent structures, with luxurious rooms and facilities such as a bar and restaurant.
From the title, you can already guess that the walking safaris in Kenya take just half a day. During this tour, you will move in and around the bush, experiencing the beautiful jungles and all they carry. 
The difference between this type of safari and the first is that you can move from camp to camp. Usually, the trips are made between two camps where you set out to the wild on different routes, experiencing various phenomena each morning. 
This trip also shows more diversity than the first kind because you can walk further, broader and longer.
Mobile Camp Walking Safaris
Now, this embodiment of the pioneering concept of walking safaris in Kenya. The itinerary is simple and fun, but of all three, this tour gives you the most of everything.
After taking a hot bucket shower in your temporary camp and having a fresh and delicious breakfast prepared by your local hosts, you now start the day's activities. 
You carry all your belongings because you will set camp somewhere new daily. Do not worry; your heavy luggage will be transported by camels or vehicles using shorter routes so that everything will be set up when you reach your new camping destination.
You will spend five to seven hours exploring. Of course, you will have to stop to take a break, bite on an energy bar and take splendid photos. The walks are designed not to wear you out but to enjoy the process as you become one with the Kenyan wild.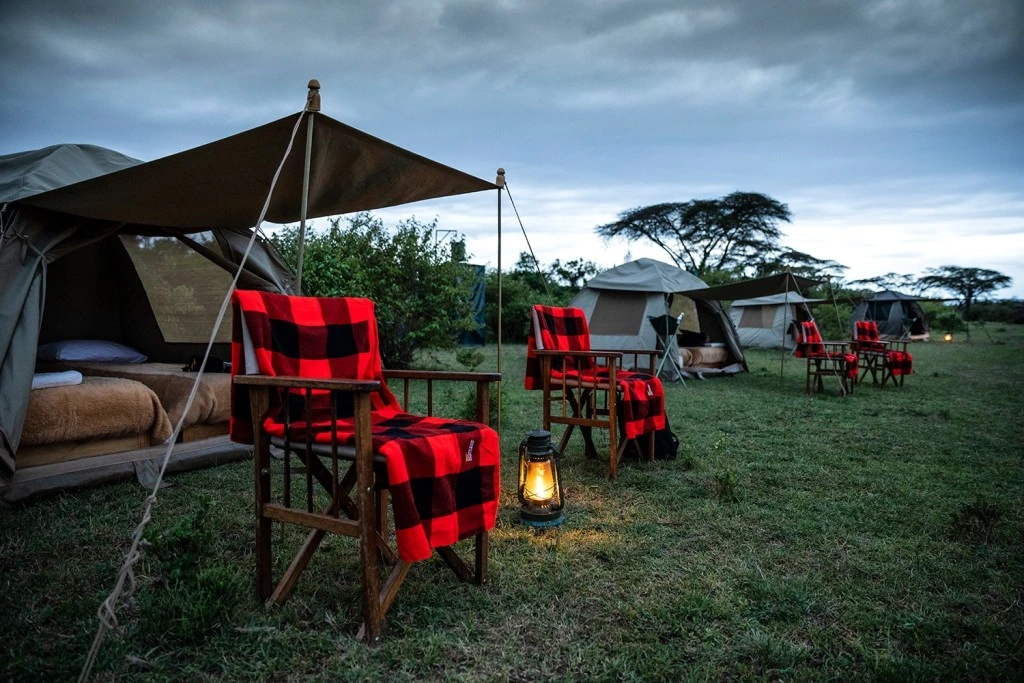 The Top 5 Kenya Walking Safaris Destinations
Here is a list of 5 destinations that may just give you the experience of a lifetime:
Naboisho Camp

– The camp is Naboisho Conservancy, one of the best places to take a walking safari in

Masai Mara

. A 4 Days, 3 Nights safari here with AjKenyaSafaris.com would be perfect for you. 

Saruni Rhino Camp

– This camp is in

Samburu

in a private conservancy called Sera. You can book a 3 Days, 2 Nights safari with us and have the experience of your life tracking the rhinos.

Laikipia Wilderness Camp

– Here, you find a quiet spot and watch nature as it goes on with its business. A 3 Days, 2 Nights safari at Laikipia Wilderness with AjKenyaSafaris.com would be ideal as you look for cats. 

Kicheche Valley Camp and Kicheche Bush Camp

– Valley Camp is in Naboisho Conservancy, while Bush Camp is in Olare Motorogia Conservancy. You can combine the two with a 5 Days, 4 Nights walking safari with us.

Borana Lodge

– It is inside Borana Conservancy and offers some of the best walking safaris in Kenya. A 2 Night safari will be sufficient here.
Why Take a Walking Safari?
I know most people cannot understand why they should choose walking over a nice comfortable ride in a car. Is game viewing exciting regardless of the means of transportation? The answer is NO.
The two cannot be compared as much as game drives are vital parts of the ultimate Kenyan holiday experience. For starters, game drives usually cover Kenyan National Parks, which do not allow walking.
On the other hand, walking safaris in Kenya cover a more undisturbed part of nature, paying attention to every last bit of the wild. From the tiny insects to the gigantic tree. You get to have a one-on-one encounter with them all.
Walking safaris in Kenya also make you cautious and aware of the environment. You get to understand the importance of every component so that you can be a friend of the environment. You will also get to be supporting the locals and the country at large.
The safaris help you stay fit and give you time to relax and meditate as you slowly walk through the secluded areas away from all the city noises and distractions.
You stand a chance to be part of the minimal population that knows and has experienced some of the country's hidden gems like seasonal waterfalls, hidden caves, and natural pools up on hills.
You also get to meet so many locals and get a clear picture of the marriage between old and new ways of living. You will see how these locals can live comfortably off of nature without destroying it.
You will see the various uses of plants, know the numerous types of wildlife and maybe even get to learn the local dialect! Walking safaris in Kenya are the complete package, offering much more and for less money.
Tips to Remember During Your Walking Safaris Kenya
As you already know, walking safaris destinations are reserved areas for wildlife. It is, therefore, vital to remember the following rules:
Always listen to your guide

. They are all born and bred in Kenya and trained to lead such tours. They, therefore, know what to and what not to do. Do not feel like you are being restricted if you are asked not to do something.

Always ask for help if you encounter any problems

. The guides have been trained to respond to any incident or accident. If you are not feeling well or need any help, do not hesitate to ask for the help of your guides.

Do not wander away from the company

. Always keep close to everyone to avoid any incidents or accidents from occurring.

Be eco-friendly

. Do not cut or uproot any plants or disturb any fauna. Do not destroy anthills or bird's nests or transport a bug from one point to another. The trips have to be as natural as possible.

Carry a camera because you will have so many moments to capture.

Enjoy every moment

. Savor every minute.

Do not litte

r. Ensure you keep all your waste together until you get to the proper designated disposal places.