Start Planning Your Kenya Camping Safari Today!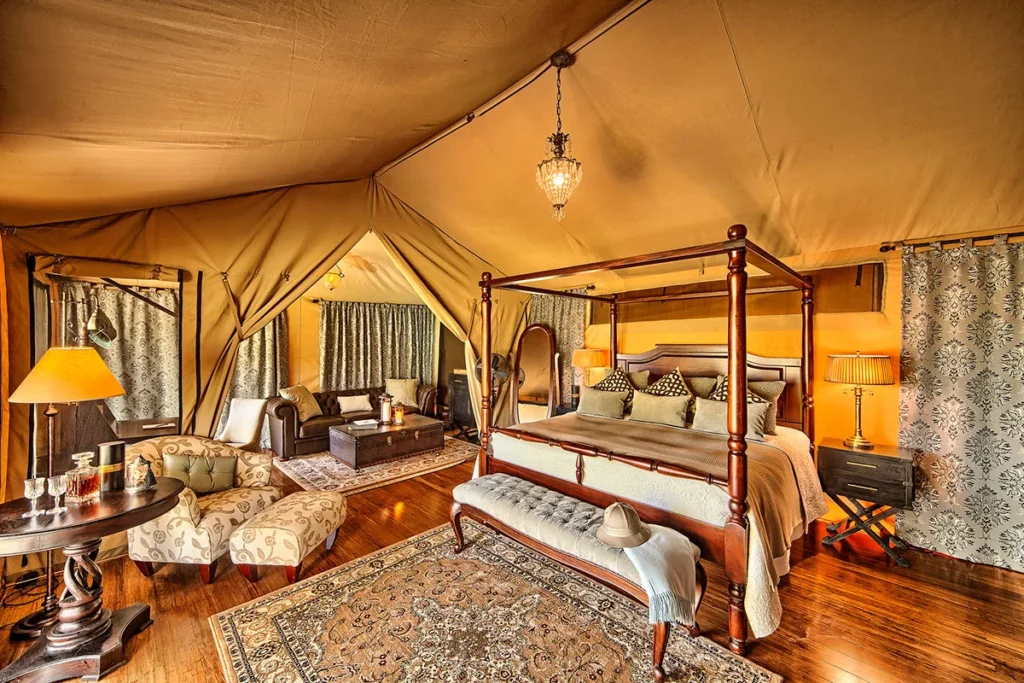 WELCOME TO AJKENYASAFARIS.COM LTD. We believe that there is no better way to explore a new place than with the people who were born and raised around that destination. That's why we have dedicated our lives to gathering and sharing all the information that travelers need to plan safe and adventurous Kenya camping safaris. 
With us, you will explore the striking beauty of our country with knowledgeable and friendly locals, in a personalized way.
How We Make the Best Kenya Camping Safari Packages
At ajkenyasafaris.com, we are committed to helping you plan the best Amboseli, Nakuru or even Masai Mara camping safari . We are a team of travel consultants who call Kenya home, and nothing makes us happier than seeing the broad smiles on our client's faces after taking them on a lifetime trip.
We start planning your trip through email, phone, WhatsApp, or zoom consultation, so that we hear what you want to do when you visit and tailor-make the trip to deliver a true "Out of Africa" experience.
Alternatively, email us via james@ajkenyasafaris.com or safarioffers@ajkenyasafaris.com.  Call or WhatsApp us at +254-748-258-880.
Looking for Inspiration? Start Here – Kenya Camping Safari Price
How We Tailor-Make Your Kenya Camping Safari
The planning process starts with a one-on-one consultation via WhatsApp to connect you with the Kenya safari experts who will be planning your camping safari expedition. During the meeting, we will answer your question about traveling to Kenya, and discuss your holiday plans, destinations you want to explore, travel schedules, and help you with anything else you might need to plan an immersive and adventurous Kenya camping safari.
You will then tell us whether you want to tour Kenya with your friends or to join one of our scheduled camping safaris. If you will be traveling with your friends, our experts will use the information you give us to pen a rough itinerary, customized for you to the heart. 
Our team finalizes and submits it for your review within 24 hours. Then, you will share and discuss the itinerary with your friends, and if need be, we meet and discuss further amendments until you are 100% satisfied with the destination and accommodation included.
At this point, you will pay the deposit to allow us to make the bookings for you.
Why a Kenya Camping Safari with Ajkenyasafaris.com
A camping safari in Kenya with Ajkenyasafaris.com is an experience you won't forget! We have some of the best facilities and knowledgeable staff to ensure you have a truly unique experience.
Explore the Beauty of Kenya with the Locals
Kenya is an incredibly beautiful country. It has been voted Africa's leading safari destination many times; Diani has been voted Africa's leading beach destination for 6 times, and Masai Mara National Reserve has been voted Africa's leading national park for 6 times. 
In our opinion, Kenya is the ultimate camping safari destination for those looking for authentic Kenya camping safari experience. We are a team of friendly and professional local tour guides, all born and raised in Kenya, and we will show you our birthplace, better than anyone else.
Luxurious Tented Camps
There is something magical about sleeping in a canvas, joining hands and being one with mother nature, having a romantic candle-light dinner under the star-lit sky, and being calmed to sleep by the melodious cry of the wildlife. 
This is the experience that awaits those who decided to book a luxurious Kenya camping safari with us. Most of our tented camps are unfenced, and you will often sport a lion or elephant passing by. Fear not! Guards will be on hand to escort you to your tent after dark.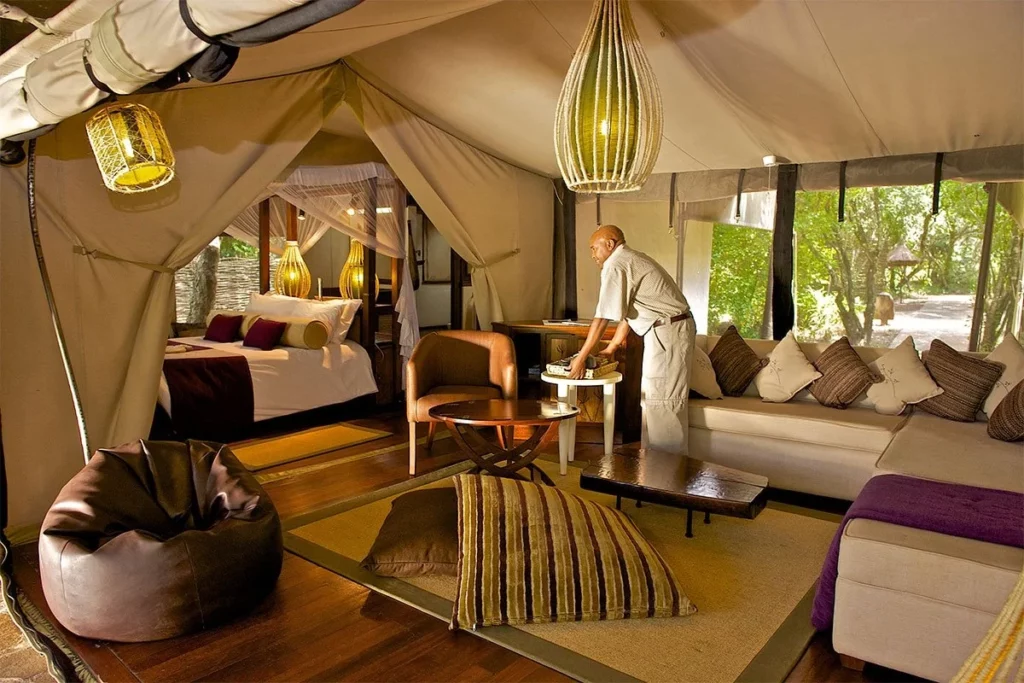 Sleep in 5 Star, Tented Accommodation
Our hand-picked tented camps will keep you oblivious to the fact that you are one with nature, but there is nothing you can take away from our Kenya safari camps. We have crossed the length and width of our beautiful country, and most of the tents we recommend offer a 5-star hotel experience.
Most of them are luxurious, with raised wooden decks, and canvas walls that can be unzipped to connect you with nature. They are enriched with bathrooms, hot showers, plush linens and 24-hour electricity. For an extra amount, you will have private plunge pools and hot tubs for a Vegas-like Kenya camping safari experience.
We Are Flexible
AjKenyaSafaris.com is all about tailor-made Kenya holiday experiences. We do not limit your Kenya camping holiday experiences to set schedules and airlines. If you just tell us your availability and travel plans, we will set up a camping safari that is as personalized as you are.
We will book tour cars, camps, and customize your travel itinerary till it's exactly as you dreamed it would be. We are true experts when it comes to Kenya safaris. We live, work and tour here, and we use our local expertise to take the stress out of planning your dream Kenya camping safari.
Highlights of a Kenya Camping Safari Booked with US
From acacia-dotted savannahs to lush rainforests, majestic mountain peaks, and idyllic beaches, there's something for everybody in this incredible African country. Here is what you can expect during our Kenya camping safaris and other Kenya safari tours from Nairobi.
The Kenya camps we recommend are all located in strategic places for optimal game drives such as the Mara or Amboseli ecosystem.
All game drives will be in 4×4 tour vehicles with raised roofs for optimal game viewing.
A dedicated Kenya safari guide certified by the Kenya professional safari guides association.
In each of our campsites, there are professional staff who handle tasks such as heating the water, washing up, cooking and serving.
A local professional chef who will prepare luxurious meals; a variety of local cuisines and many international cuisines.
You can bring your own sleeping bag or hire for a fee and spend a night in a comfortable mattress spread on the floor.
Mineral water throughout your stay in Kenya.
Nightlife in safe places if mutually agreed.
Air transfers for distances exceeding 5 hours by the road.