Mount Kenya Climbing Safari & Tour - Experts Tips and Guide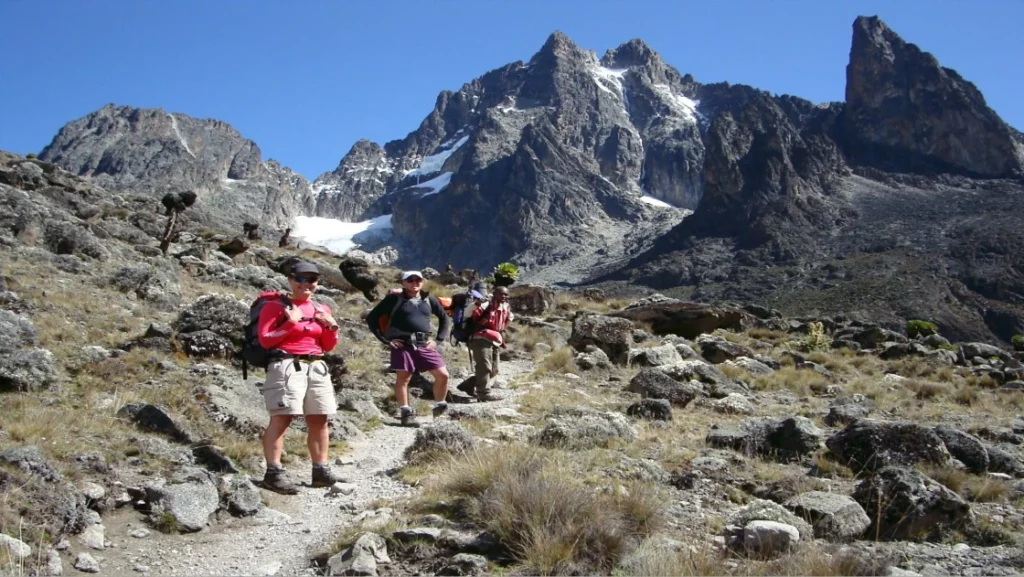 Mount Kenya is the highest mountain in Kenya and the second highest in Africa after Mt. Kilimanjaro. For mountain climbing enthusiasts, a few things can be as rewarding as Mount Kenya climbing safari; reaching the peak is always exhilarating.
Mt. Kenya is central Kenya, and it has three main peaks; Batian (5,199m), Nelion (5,188m) and Point Lenana (4,985m).  Most Mt. Kenya climbing safaris end at Point Lenana, mainly because the other two peaks require technical climbing with equipment.
This is not to say that reaching point Lenana is an easy task! It requires good preparation, both physical and mental. Mount Kenya has other little-known peaks such as Point Piggot (4957m), Point Dutton (4885), and Point John (4885m) that are ideal for beginners.
The walk up Mount Kenya is a beautiful expedition adorned with views of numerous tarns (small lakes) and exotic vegetation such as lobelias and groundsels. You will also see the breathtaking  Lake Michaelson and Lake Ellis and unique animals such as the mountain hyrax.
Book Your Mount Kenya Climbing Tour Today with AjKenyaSafaris.com
Our Most Booked Climbing Mt Kenya Packages and Other Safaris
Mount Kenya Climbing Safari - A Guide to Mt. Kenya Climbing Routes
You now understand the Mt Kenya peaks names, but what routes should you use to get to them? One of the most important factors is the best route during a Mt. Kenya climbing safari. There are several routes, and all end up at point Lenana.
The mountain is circular and symmetrical, and the peaks are somewhat in the middle, making it possible to approach the peak using multiple routes. Each route has merits and demerits due to differences in terrain, distance from the peak, vegetation, difficulty, and the number of days required to get there.
The three main climbing routes are Chogoria, Naromoru, and Sirimon. The other less known and less used routes include Burget, Timau, and Kamweti. There are two ways you can do a Mount Kenya climbing Safari.
One is to join an already scheduled safari with one of the many tour companies offering Mt. Kenya Safaris, such as AjKenyasafaris.com or Masaimarasafari.in. In this case, the tour operator will already decide the route, the number of days, climbing mount Kenya cost, and other things.
The other way is to get a personal guide or the expedition company to craft a safari for you, either with a group of friends, family or even individually. A small group or sole trek allows you to have a  say in the route, the number of days taken, and other factors.
Once the route has been decided, the lead guide primarily directs the actual climbing. While, for the most part, the path used is the same, the leader might choose to approach an area from a different angle depending on the dynamics and interests of the group.
For example, he might set camp by Lake Michaelson instead of Mintos Hut using the Chogoria route, or he might take a detour to show the group a specific feature such as a waterfall or lake. The one thing to remember is climbing Mt. Kenya without a guide is not a good idea. 
Below are highlights of the three main routes used during a Mt. Kenya Safari:
Go to Mount Kenya Using Chogoria Route
Chogoria is arguably the most scenic route to use. It has incredible features such as the spectacular Temple cliffs, the breathtaking Lake Michaelson, Nithi Falls, and Gorges Valley.
Recommended time for this route is five days to allow for good acclimatization. Mountain climbers who are relatively fit or in groups in a hurry can do it in four days. Shorter than that is not recommended as the risk of mountain sickness is too high.
The Chogoria route allows you to approach from the east via Chogoria town. You can use a safari vehicle for the 32Km distance from the forest gate to the main park gate, which is already at an elevation of 2500m.
After registration and payment at the park office and depending on your climbing itinerary, you can start walking the same afternoon up to Mt. Meru Bandas (3000m) for the first night. On the second day, you walk through the rosewood forest to pass by Mugi Hill and maybe a detour to the spectacular Nithi Falls.
This is an excellent chance to have some fun with the water and cameras before the hard climbing begins. A wonderful place to spend the second night is by the breathtaking Lake Ellis.
On the third day, you will walk through impressive cliffs called 'The Temple.' The gorgeous Lake Michaelson is the bottom of these lakes, which is a good place to camp for the third night.
Alternatively, your guide might decide to have you spend the third night at Mintos Hut (4200). The path gets quite steep on the fourth day leading up to Simba Tarn (4300m), where you meet the trail from Shiptons Hut.
The trail remains steep to Point Lenana. You can descend through any of the three routes, Sirimon to the North, Naro Moru to the West, or going back via the same route.
Mount Kenya Day Hike Using Sirimon Route
Sirimon route offers the most gradual incline among the three main courses and thus is the best for acclimatization. It is possibly the 'easiest' route as it has few steep sections and is best done in 3-4 days.
It is approached from the Northwest at Nanyuki, and like the other routes, climbers can walk or drive to the park gate, which is at 2300m. You will pass through beautiful yellow wood forests, which soon give way to alpine vegetation higher up.
The first stop is Old Moses Camp at 3300m, where you will spend the first night. The second day continues on the trail going through moorland into Mackinder's Valley, which has panoramic views of the mountain, arriving at Shiptons Camp (4200m) for the night.
On the third day, you leave at 3 am towards the Austrian Hut, from where point Lenana is approached via Simba Col. Descent can be via the same route or either of the other two ways.
Mount Kenya Hike Distance Using Naro Moru Route
Naromoru is the fastest route to Point Lenana and, therefore, the most popular. It is often recommended for people looking to have a 3-day Mt. Kenya climbing safari. It is not particularly scenic and features the infamous 'vertical blog,' a section of wet moorland hugely punishing, especially after it rains.
It starts at Naromoru Gate (2500m), which also serves as park headquarters. Naromoru route has camping options at two points: Met Station (3050m), where you spend the first night, and Mackinders Camp (4200m), where you spend the second night.
On the third day, you will depart at 2 am, likely approaching the peak from the south at the Austrian Hut (4790m). If you make good time in the 4-hour climb, you will arrive at Point Lenana by sunrise. You will then retrace your steps for the descent.
Mount Kenya Climbing Tour - The Best Time to Climb Mt Kenya
The best time for a Mt. Kenya safari is during the warm, dry months between January and early March and August and September. Kenya has two rainy seasons, the long rains between mid-March and May and the short rains between October and early December.
It is advisable to avoid climbing Mt. Kenya during these rainy seasons. However, strictly speaking, it is possible to have a Mt. Kenya safari at any time of the year, including the rainy season.
The only prerequisite here is that you be well prepared for the extra effort of mud and bogs in the various routes. You might get some relief, though, as the mornings are likely sunny with rain falling in the afternoons.
The dry season also attracts the most climbers. So, if you want a less crowded time for a Mt. Kenya safari, you might consider the rainy months when crowds are minimal.
At over 3000 meters, day temperatures might fall to 5 degrees Celsius while night temperatures plummet. You must be prepared for different temperatures.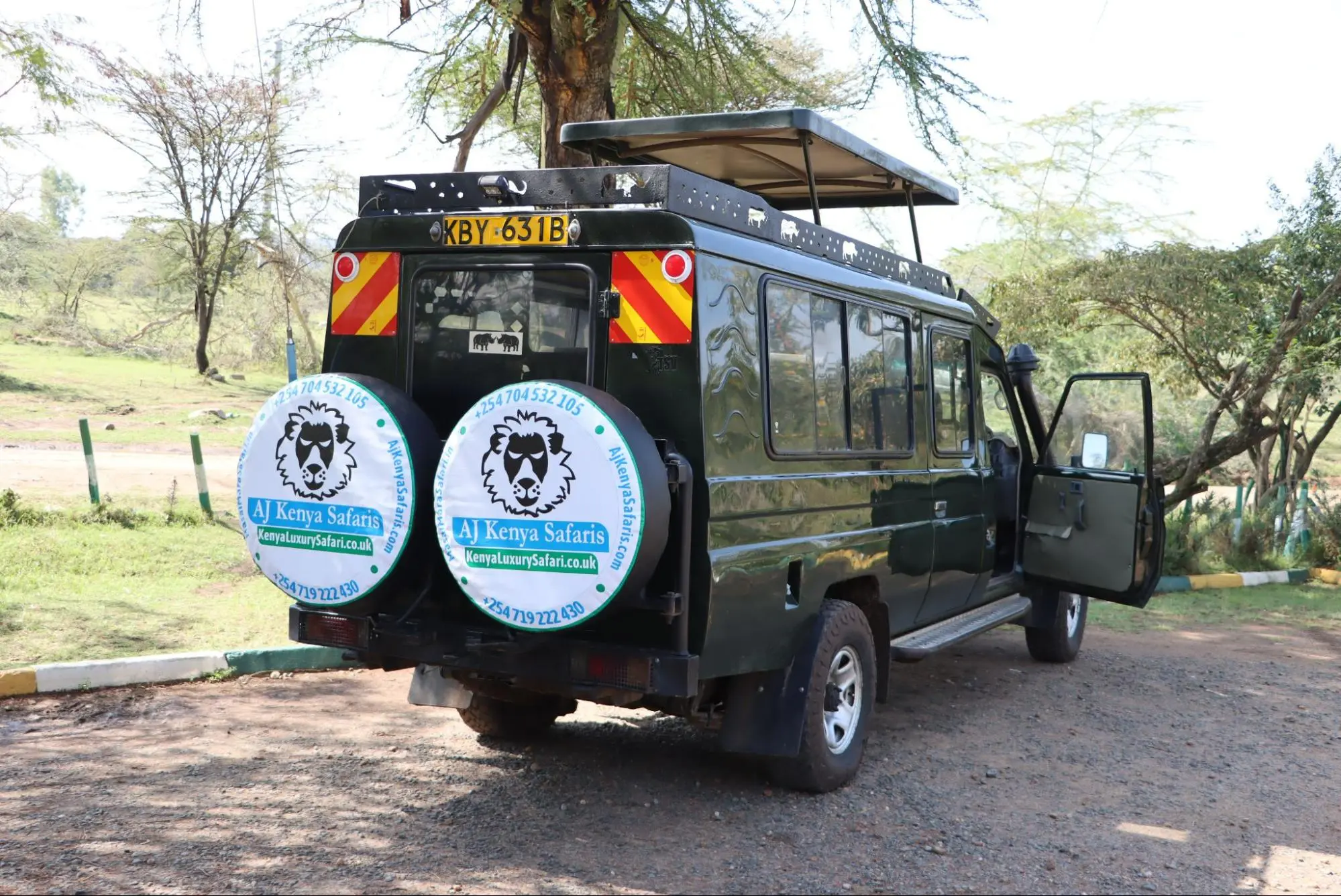 A Guide to Mt. Kenya Safari - Choosing the Right Company
Choosing the right person for your Mt. Kenya tour can significantly affect you. Here we have discussed how you should choose the service provider, guides, porters, and cooks.
Choose the Right Tour and Travel Company
Hundreds of tour companies offer Mt. Kenya safaris; picking one might be daunting. Recommendations always work best. If you know someone who has been on a Mt. Kenya tour before, it's best to ask them for their recommendation on a good guide.
If you have no such contacts, you can get on the internet and talk to different companies about price, itinerary, routes, number of days, and any other questions you might have.
It is easy to tell which companies are reliable and experienced based on how they respond to you. Next, find out what other people are saying about them online.
Do not immediately go for the cheapest offer as cheap is always expensive. You do not want a company that skimps on food at 4000 meters altitude or offers a guide who is unqualified and inexperienced.
You can find our TripAdvisor Review here.
Choosing Guides, Porters, and Cooks
Every Mt. Kenya safari is made successful by a 'support' team of a lead guide, cook, and porters. A lead guide will be responsible for leading the group to the summit using the designated route. As mentioned earlier, the lead guide is at liberty to tweak the course as he sees fit.
He is also responsible for setting the pace depending on the terrain and group dynamics. If the group is moving too slowly, he might up the pace or slow it down if moving too fast. It is crucial to have an experienced guide who understands the symptoms of altitude sickness and how to mitigate it.
The lead guide also decides when to take breaks and shares his knowledge of the mountain's vegetation, animals, lakes, and other significant features. The safari guide is supported by a team of porters who carry luggage and a cook in charge of meals. 
Technically speaking, each trekker has one porter who helps carry their bags. The porters will usually move ahead of the group to the next stop, where they set up tents and start on meals before the group arrives.
Mount Kenya Climbing Safari - Things to Carry for Mt. Kenya Trekking Tour
Whether your safari to Mt. Kenya is being organized by a private guide or a tour company, there is a list of recommended items you should carry. Although in no way exhaustive, below is a highlight of the required items:
Most companies will advise on a layering system of clothing that can be put on or peeled off depending on the weather. Inner clothes include thermal tights and tops, a top layer of pants, long-sleeved polo, and a light jacket for day trekking. You will also need an outer layer comprising a heavy jacket/raincoat and waterproof pants.
It is advisable to bring a few pairs of heavy woolen socks and waterproof ankle-length hiking boots, gloves, and a balaclava. You may get a lighter pair of shoes to change into in the evenings. It is recommended to have a couple of gaiters to keep off mud and water when walking.
Such as toothbrush and toothpaste, medicine you might be taking, soap, lip balm, sunglasses, a headlamp small wash towel, a wide-brimmed hat, wet wipes, etc. Although meals are provided, you may carry some snacks such as dry fruits, nuts, biscuits, or any other you fancy eating as you walk.
A good tent (such as a 4-season) and well-insulated sleeping bag are recommended as you want to stay as dry and warm as possible in the freezing temperatures.
It is recommended that you bring two bags. A large backpack that will be carried by the porter and a day bag that you will use to carry items that you require during the day, such as a hat, sunglasses, snacks, water, raincoat, camera, etc.
The larger backpack carries everything else that you don't need during the day.
Altitude, Safety, and Tips for a Successful Mt. Kenya Safari
One of the most significant issues with a Mt Kenya safari is the threat of altitude sickness. Regardless of how fit you are, you can get mountain sickness if you ascend too fast.
Each route has a minimum number of days you should take to reach the summit, and it is advisable to respect this. The trek's goal is to get to the summit and not to see how fast it can be done.
An experienced guide can set a reasonable pace and monitor for any sickness symptoms. Keeping hydrated at all times is also essential. Having the right frame of mind, equipment and clothing will also assist in success. Happy climbing!