Kenya Wildlife Facts - 9 Kenya Safari Facts You Should Know
Kenya is a popular safari destination with interesting, enthralling, and sometimes not too well-known Kenya safari facts. It is the home of the African safari, offering up-close observation of some of the most magnificent animals in the world, meandering across its grassy savannah.
Nothing beats a safari holiday in Kenya with its breathtaking views, fantastic wildlife, vibrant culture, and diverse flora. Now, every country in Africa claims to be the origin of safari, and this feat is not really to be fought over since what matters is that a visitor has a great time.
However, can we just digress a little and say that historically, East Africa – Kenya, to be specific –  is the birthplace of wildlife exploration in the form of safari? Now, we can dive into some interesting Kenya wildlife facts.
Book Your Kenya Safari with AjKenyaSafaris.com Now
Reach us today to book your safari to Kenya by calling or sending a WhatsApp message at  +254-748-258-880. We are also available via email at  james@ajkenyasafaris.com or safarioffers@ajkenyasafaris.com. We are local tour operators that can help you plan the best Kenya safari tour and share with you the most interesting Kenya safari facts.
Kenya Safari Facts - Our Most Booked Kenya Safari Tours and Other Packages
Kenya Wildlife Facts - Top 9 Interesting Kenya Safari Facts
Kenya Safari Facts - Brief History of Kenya Safaris
The original safari dates back to the 14th century when Arabs made trading trips to east Africa. They weren't interested in wildlife back then as their primary focus was trade, but these journeys, like classic safaris, were planned for months, hence the term safari.
Over time, Kenya wildlife safaris developed a new meaning when visitors, especially from Europe, started streaming into the country to escape bitter winters. Today, there are more than ten ways to explore the country. 
These include Kenya family safaris, Kenya camping safaris, Kenya honeymoon safaris, Kenya beach safaris, Kenya wildlife safaris, small group journeys, and more. The best safari in Kenya for you depends on your pocket and what you want to see and do while here.
Kenya Wildlife Facts - Royals Love It, and so Will You!
Believe it or not! The royal family particularly likes safaris and has been to Kenya a few times. While on a Kenya safari, Princess Elizabeth became the new Queen of England upon her father's death, King George the Vth.
When the news broke, she and her Royal party were on a 5-day safari through the wilderness of the Aberdare Ranges in Kenya. Another member of the Royal family, Pippa Middletown, the younger sister to Catherine Duchess of Cambridge, also participated in a 42 Km marathon in Kenya. It aimed to raise funds to support wildlife conservation.
During the 20th century, Kenya received a wide range of notable visitors, including Winston Churchill, Theodore Roosevelt, and The Duke of Gloucester, who went on well-documented safari adventures.
In 1993, Bill Gates toured one of Kenya's safari highlights – the Maasai Mara. And the 44th President of the US, Barack Obama, has visited Kenya multiple times.
Kenya Safari Info - Packages Suit Everyone
Kenyan safaris are not bulked together. A reasonably priced family package for two weeks in the bush will cost you around USD 1,500 per day for food, board, and transport. 
A luxury safari is quite expensive as it incorporates balloon rides, high teas, meals, accommodation in the most luxurious places in the country, and entry fees to all game reserves. This package could cost as much as USD 600 per person per day.
A budget Kenya safari costs less than USD 200 per person per day, including accommodation in decent camps, meals, and destination entrance fees.
Kenya Safari information - Kenya Boasts a Wide Array of Wildlife
Kenya's wildlife is unrivaled in terms of the variety of species. Other than the Big Five that draw millions of eager visitors to the country, there are hippos, cheetahs, and an assortment of snake and bird species. The world's last remaining northern white rhinos are also present in Kenya.
Talking of wildlife, here are a few fascinating Kenya wildlife facts:
Leopards are the most difficult to spot. They are kings and queens of camouflage.

Giraffes have blue tongues. Fascinating, no?

Hippos graze at night.

The African elephant is the largest land mammal on earth.

The hummingbird can fly.
How Would You Like a View from Above?
Most people believe that the only way to experience a Kenya safari is sitting in a Landcruiser with an open roof and driving through the vast savannah, but how about a sky safari? Oh yes, it's possible, it's fascinating, and it's unmatched!
A Kenya balloon safari is a luxurious way to explore the most scenic national parks and game reserves, including the Masai Mara National Reserve. It is also the best way to experience the great Wildebeest migration, considered one of the world's eight wonders.
Don't get us wrong, our comfortable land rovers are great, but they are only one way to see the Kenyan wildlife. Kenya balloon safaris are your best option if you want a bird's eye view.
The ride costs about USD 450 per person, including a champagne breakfast in the bush.
Masai Mara Facts - Wildebeest Migration is Unmatched in Adrenaline Rush
Besides being famous for spotting the ''Big Five'' and the Big Cats, Masai Mara is the arena of the majestic wildebeest migration. The Mara wildebeest migration sees millions of wildebeest, zebras, and other animals migrate from the Serengeti to Mara in search of pastures and water.
The migration creates a great spectacle as the herbivores are hunted, stalked, and run down by larger carnivores, and in the end, only the most resilient survive. Despite the Massacre, millions still make it across the Mara River only to make the same journey back to Serengeti in three months.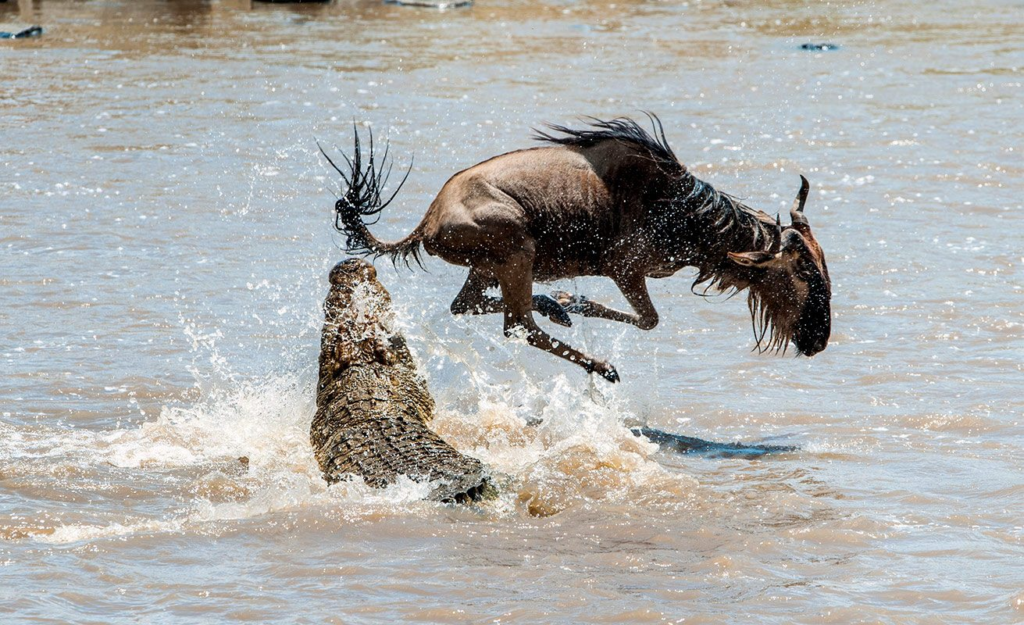 Kenya Safari Facts: There's More to the Safari than Wild Animals
Most people who go on safari do it hoping to see African safari animals. From the wildebeest migration, the African elephants, and aggressive lions to the vast scenic sea of flamingos in Lake Nakuru, Kenya has no shortage of spectacles.
Another bragging right here; Kenya is the only country in the world with a game reserve bordering a capital city, the Nairobi National Park. You'll find the largest game park in Africa in Kenya – The Tsavo East and Tsavo West National parks.
While that is fascinating, our white sandy beaches make a Kenyan safari even more enjoyable. If you are looking for the ultimate experience, you will not regret including Diani in your itinerary. Think of it as a way to wind down a memorable trip.
The Unique Kenyan Culture is Truly Kenyan
Besides elephants, lions, and beautiful beaches, a typical safari will incorporate the unique Kenyan culture that blends African traditions of thousands of years with modern influences.
The Kenyan people, food, language, dance, art, ethnicity, values, and norms will be fully displayed as you transverse the country.
The Best Time for a Kenyan Safari – by the Month
While, and what is the best time to visit Kenya for a safari? The month and month guide will give you an idea of when to come. 
June to October
June through October is the dry season with blue skies, many stars, and good visibility. The shrubs are less dense, allowing for unobstructed game viewing. The great wildebeest migration also happens during this period, so there is a lot to see.
The only downside here is that parks, especially the Mara, Amboseli, and Lake Nakuru, are crowded with tourists. It is the high season and so safaris are a tad pricier.
November to May
This wet season is full of life. Green shrubs sprout everywhere, all parks are beautiful, and little ones are born during this period. There are fewer tourists as the weather is colder and short rains are unpredictable, but this season presents the best way to witness an African jungle coming to life.
Rates are lower, too, being as it is low season.