A Guide to the Best Safari Near Nairobi - Top 8 Destinations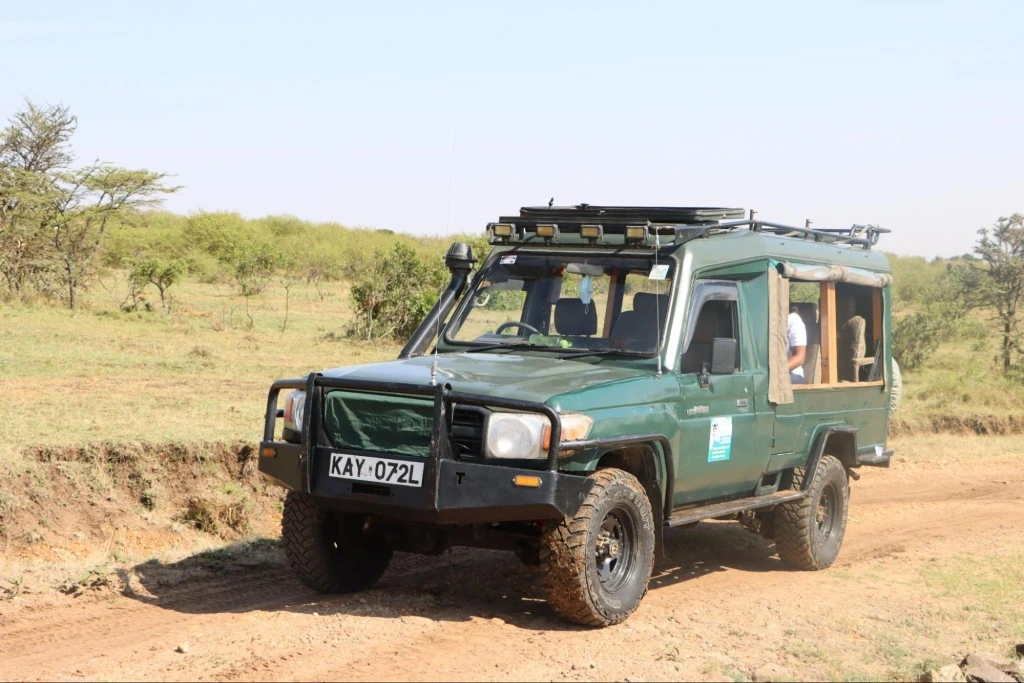 Are you visiting Kenya for a business trip and have a day or two to spare? You are in luck because there are dozens of safari near Nairobi you can enjoy within a few hours. 
Our Nairobi safari specialists have drafted this article specifically for you. We plan to list the top 8 (Really Affordable) day trip destinations from Nairobi.
The destinations on our list are all family-friendly, affordable, fun-filled, and inspirational. We hope you will love them. But before then, here is how you can book your Kenya safari with AjKenyaSafaris.com.
How to Book Your Safari Near Nairobi with Us
Our Most Booked Safari Near Nairobi Kenya & Other Packages
The Top 8 Best Safari Destination Near Nairobi City
Without further ado, here is our list of the top 8 destinations for a safari near Nairobi.
Hell's Gate National Park and Olkaria Spa Safari near Nairobi
It seems Naivasha carries all the spectacular destinations for a safari near Nairobi. The Hell's Gate National Park, contrary to its name, is nothing but a paradise on earth.
Rumors have it that the great rock features inspired the pride rock in this park's widely celebrated Lion King animated movie. I kid. But believe me when I say the sites are to die for.
The park gets its name from the numerous geothermal activities around it. One of the reasons you must consider going for a safari near Nairobi to Hell's gate national park is that it is as family-friendly as any place.
Children will have their space to jump and run around and even play hide and seek around the natural pillars of rock. And then, when you get tired, you can hire a bicycle for you and your family and finish the rest of the trail on wheels.
You will also get to see a continuous array of wildlife, including the bearded vultures, and view and touch the powerful yet gentle remains of the volcanic activities of old,
And if time and money allow, you can even camp overnight and be dazed by the beautiful diamond-filled Kenyan sky.
From all you have read, I know you must think this is the best spot for a day's safari, but wait till you hear this next part. Natural Spa! Yes. The Olkaria Spa, located in the National Park, is a phenomenal wonder.
You could mistake it for your everyday swimming pool; the only difference is that this one is natural and hot! The underground geothermal activities keep the waters warm and toasty, and if you are not careful, you may find yourself drifting into a peaceful slumber after taking a dip.
Imagine taking this bath after a long tiresome day hiking and biking at Hell's Gate National Park. Divine, isn't it? As if that is not enough, there is a baby pool for the younger kids, so you don't have to look for a babysitter when you decide to take a quiet refreshing session in this spot.
The Terrific Yet Under-Celebrated Mt. Longonot
Mt Longonot is one of the many mind-blowing features to grace the floors of the Rift Valley. It is an extinct volcano with artistic carvings on its escarpments and a thick forest flourishing on its crater's floor.
It is located about 60 kilometers (1 hour) from the heart of Nairobi, and the Kenya Wildlife Service runs it. Hiking Mt Longonot is an experience you will not regret or forget.
The forest houses some animals, including monkeys, gazelles, and, reportedly, lions. You may, however, not see them during your trip there. Don't worry; you will still get to see and do so many other things.
A safari near Nairobi to Mt Longonot is not only one of a kind but also healthy and fun. The hike up Mt. Lonogot takes approximately 2 or 4 hours if you want to go around the crater.
The walk allows you to be one with nature. It is in the same space as beautiful birds, calm gazelles, and sometimes cheeky apes. You must be energized, highly comfortable in clothes and shoes, and medically fit.
Carry a jacket or shuka (shawl). It can get pretty cold during the wet season (April – July). I remember going on this hike when I was a bit younger, and even though the trail up is tiring (I may have cried), the view at the very top cannot be put into words.
The fresh breeze, the locals selling unique artifacts, the numerous photogenic spots, and the feeling you get in your veins when you realize just how beautiful and mighty nature is is priceless.
Go for a Boat Ride with Hippos on Lake Naivasha
Lake Naivasha is one of those places you can never get enough of. Apart from the fantastic scenery that the trees, water, horizon, birds, and sunset make, the boat ride will leave you amazed.
You can access boat rides in this hippos-filled lake from different camps and resorts around the lake, including the Crayfish Camp, Elsmere, and Fisherman's camp.
If you want a hands-on local experience, try Karagita Beach. Generally, the boat rides are between USD 30 and USD 40 per hour, but the boats can carry up to 6 people, so it is relatively cheap. You will even get to eat freshly caught fish for lunch at a friendly price.
This exceptional safari near Nairobi is almost like a scene from a movie. Imagine being in a boat, heading for the burning setting sun. Colorful birds, large and small, fly over and around you, raising their different yet harmonic chirps together, and all you need to do is be there.
Best Safari Near Nairobi Destination #3 – Crescent Island
Crescent Island is one of Kenya's best-kept secrets. You do not need a vehicle! You get to walk with majestic animals and get a unique encounter.
Home to no predators like the leopards, Crescent island allows you to join the Kenyan wildlife on their tuff. Expect to see herbivores such as antelopes, gazelles, buffalos, zebra, and wildebeest, just to mention a few.
The island is located on the shores of L. Naivasha. So, you can book a boat tour and see hippos and cranes of l. Naivasha. Later, enjoy an evening stroll while waiting for sunset.
Best Safari Near Nairobi Destination #5 – Lake Elementaita National Park
We are still in the Rift Valley and are not even halfway done discussing the list of safari destinations near Nairobi. However, as far as having the best safaris near Nairobi, Lake Elementaita has to be on our list.
This seasonal salty lake in Nakuru County is home to some of the lesser flamingoes found in Kenya. However, the flamingos have decreased due to recent climate changes and algae reduction in its waters.
This is not to say that it isn't a worthy spot for safari because it is. The fascinating fact about this spot is that you can have picnics by the shores of the lake, especially during the dry seasons when the waters have receded.
For even more adventure, you can have nyama choma (barbeque but Kenyan style) at the famous Kikopey joint just by the Nakuru-Nairobi highway before or after your safari.
The following three places are not exactly out of Nairobi, but they are a bit away from the hustle of the business district. Ideally, they do indeed offer a safari near the Nairobi experience.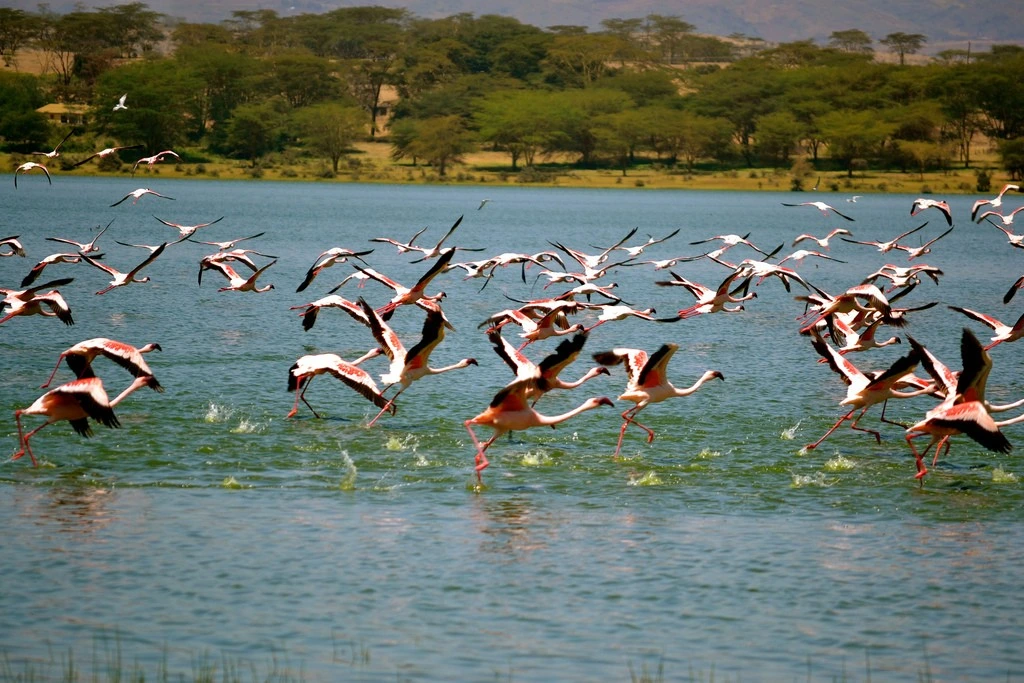 Game Drives in Nairobi National Park
Apart from the Lake Nakuru National Park, the Maasai Mara, and the Amboseli, the Nairobi National Park is the other place to experience the tremendous African Lion.
Run by the Kenya Wildlife Service, the park offers camping, hiking, and game drive opportunities. You will see rhinos, buffalos, rhinos, gazelles, and many different species of birds.
The park has also made a name for itself on its successful mission to rescue and care for black Rhinos. It has the highest population of these magnificent beasts. You can easily access this park when you book your safari with AjKenyaSafaris.com.
Although found inside Nairobi National Park, it is a separate entity that offers marvels. Imagine a place where you can have a one-on-one encounter with the animals.
The orphanage, established in 1964, holds animals that have been orphaned by either natural causes or by poachers. Instead of leaving them also die in the wild, the animals are taken in at a young age, bottle-fed, vaccinated and reared into adulthood.
These lucky baby animals include cheetah lions, warthogs, and buffalos. You get a close-up view of the animals, read their story, and have a magical stroll around.
By the time you finish your safari near Nairobi in the animal orphanage, you will have enjoyed yourself and gained knowledge about Kenyan wildlife.
The David Sheldrick Wildlife Trust
Although all the areas mentioned above are great destinations for safari near Nairobi, the David Sheldrick Wildlife Trust has got to be my favorite. It was established in honor of David Sheldrick, a Tsavo Warden who was extremely against poaching. 
Here you will see, touch, and even feed baby elephants, which you can adopt and visit per the organization's requirements. The guides and caregivers have such a beautiful relationship with the animals you would think they are from the same family.
They will tell you their individual stories, and you will see them play and be naughty, just like toddlers.